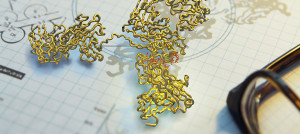 Janssen has submitted a biologics license application (BLA) for guselkumab (CNTO 1959), an IgG1 monoclonal antibody that targets the IL-23 p19 subunit, to the US Food and Drug Administration. The BLA includes data from four studies, the VOYAGE 1, VOYAGE 2 and NAVIGATE Phase 3 studies and the X-PLORE Phase 2 study, evaluating the efficacy and safety of guselkumab administered by subcutaneous (SC) injection in the treatment of adults with moderate to severe plaque psoriasis. VOYAGE1 and 2 (NCT02207231 and NCT02207244) and NAVIGATE (NCT02203032) had primary completion dates in 2015. The VOYAGE1 and 2 studies assessed the effects of 100 mg SC doses of guselkumab vs Humira® (adalimumab) or placebo in patients with moderate to severe plaque psoriasis. Results of the VOYAGE1 study were presented at the 25th European Academy of Dermatology and Venereology Congress held in September 2016. At week 16, significantly higher proportions of patients receiving guselkumab achieved an Investigator's Global Assessment score of cleared or minimal disease and at least a 90 percent improvement in the Psoriasis Area Severity Index (85.1% and 73.3%, respectively) compared with those taking Humira® (65.9% and 49.7%, respectively). The values for these endpoints were also significantly higher in patients who received guselkumab vs placebo. Janssen has indicated that additional findings from VOYAGE 1, as well as the VOYAGE 2 and NAVIGATE study, which evaluated the efficacy and safety of guselkumab for the treatment of subjects with moderate to severe plaque-type psoriasis and an inadequate response to ustekinumab, will be released at future scientific congresses. A Phase 3 study (NCT02343744) of guselkumab that is currently recruiting patients with generalized pustular psoriasis or erythrodermic psoriasis has an estimated primary completion date of January 2017, and two additional Phase 3 studies of guselkumab in psoriasis patients that have estimated primary completion dates later in 2017 (NCT02905331, NCT02951533) are not yet recruiting patients.
The Antibody Society maintains a comprehensive table of approved antibody therapeutics and those in regulatory review in the US or EU. Please log in to access the table, located in the Members Only section.
Not a member? Please join!
Membership is free for employees of the Society's corporate sponsors.