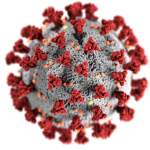 On February 11, 2022, the U.S. Food and Drug Administration (FDA) has issued an Emergency Use Authorization (EUA) for bebtelovimab (LY-CoV1404), an anti-SARS-CoV-2 monoclonal antibody that demonstrates neutralization against the Omicron variant. Bebtelovimab targets the SARS-CoV-2 spike glycoprotein receptor binding domain. The EUA was issued to Eli Lilly and Co.
The EUA for bebtelovimab is supported by clinical and nonclinical data. The clinical data are from a Phase 2, randomized, single-dose clinical trial (NCT04634409) evaluating the efficacy of bebtelovimab alone and bebtelovimab combined with other monoclonal antibodies for treating mild to moderate COVID-19.
Bebtelovimab is authorized for the treatment of mild-to-moderate COVID-19 in adults and pediatric patients (12 years of age and older weighing at least 40 kg) with positive results of direct SARS-CoV-2 viral testing, and who are at high risk for progression to severe COVID-19, including hospitalization or death, and for whom alternative COVID-19 treatment options approved or authorized by FDA are not accessible or clinically appropriate. The authorized dose of bebtelovimab is 175 mg given as an intravenous injection over at least 30 seconds. A fact sheet for health care providers with additional information about bebtelovimab can be found here.
As previously announced, Lilly signed an agreement with the U.S. government to supply up to 600,000 doses of investigational drug bebtelovimab for at least $720 million.