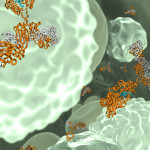 On June 24, 2021, the US Food and Drug Administration (FDA) issued an Emergency Use Authorization (EUA) for intravenous Actemra® (tocilizumab) for the treatment of COVID-19 in hospitalized adults and pediatric patients (2 years of age and older) who are receiving systemic corticosteroids and require supplemental oxygen, non-invasive or invasive mechanical ventilation, or extracorporeal membrane oxygenation. The EUA was issued to Genentech Inc.
Actemra is a recombinant humanized monoclonal antibody that inhibits inflammation by selectively binding to both soluble and membrane-bound human IL-6 receptors and subsequently inhibiting IL6-mediated signaling through these receptors. The data supporting Actemra's EUA are derived from four clinical trials, the randomized, controlled, open-label, platform trial "Randomised Evaluation of COVID-19 Therapy" (RECOVERY) and three randomized, double-blind, placebo-controlled trials (EMPACTA, COVACTA and REMDACTA). The most important scientific evidence on the potential benefit of Actemra for its authorized use came from the RECOVERY and EMPACTA trials.
The EUA for Actemra is not equivalent to an approval. According to current labeling, Actemra is FDA approved for rheumatoid arthritis, giant cell arteritis, systemic sclerosis-associated interstitial lung disease, polyarticular juvenile idiopathic arthritis, systemic juvenile idiopathic arthritis, and cytokine release syndrome.