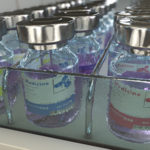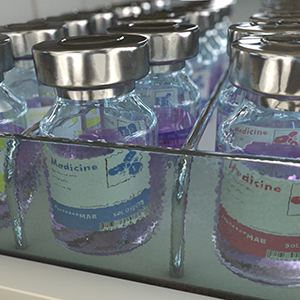 On April 22, 2021, the U.S. Food and Drug Administration (FDA) granted accelerated approval to Jemperli (dostarlimab) for treating patients with recurrent or advanced endometrial cancer that has progressed on or following prior treatment with a platinum-containing chemotherapy and whose cancers are deficient in their ability to repair DNA inside the cell, as determined by an FDA-approved test. FDA granted dostarlimab Priority Review and Breakthrough Therapy designations for this indication. Dostarlimab (TS-042, GSK4057190A) is an anti-PD-1 humanized IgG4k antibody generated by Anaptysbio under partnership with Tesaro, which was acquired by GlaxoSmithKline in 2019.
Interim analyses of data for patients with mismatch repair (MMR)-deficient endometrial cancer with recurrent or advanced disease that progressed on a platinum doublet regimen enrolled in the Phase 1 GARNET study (NCT02715284) were reported at the European Society for Medical Oncology (ESMO) Virtual Congress in September 2020. Patients received 500 mg of dostarlimab every 3 weeks for the first 4 cycles, then 1,000 mg every 6 weeks until disease progression or discontinuation. The primary endpoints included confirmed objective response rate (ORR) and duration of response (DOR). The ORR was 44.7% in patients with deficient mismatch repair (dMMR) disease and 13.4% in those with MMR-proficient (MMRp) disease. In the dMMR cohort (n = 103), 11 complete responses, and 35 partial responses were observed. Thirteen patients achieved stable disease, while 39 patients experienced disease progression. In the MMRp cohort (n = 142), 3 patients had complete responses, 16 had partial responses, 31 achieved stable disease, and 77 patients experienced progressive disease. At the time of data cutoff, with a median follow up of 11.2 months, the median DOR had not been reached.
Dostarlimab is also being evaluated as a treatment for various types of cancer in early-stage clinical studies, as well as two Phase 3 studies, RUBY and FIRST. The RUBY study (NCT03981796) is evaluating dostarlimab plus carboplatin-paclitaxel versus placebo plus carboplatin-paclitaxel in patients with recurrent or primary advanced endometrial cancer. The primary outcome measure is the progression-free survival (PFS) assessed by an investigator, and the primary completion date is July 2021. The FIRST study (NCT03602859) is a comparison of platinum-based therapy with dostarlimab and niraparib versus standard of care platinum-based therapy as first-line treatment of Stage III or IV non-mucinous epithelial ovarian cancer. The primary outcome measure is the PFS and the primary completion date is January 2023.
Need help keeping up to date on US and EU approvals?
The Antibody Society maintains a comprehensive table of approved monoclonal antibody therapeutics and those in regulatory review in the EU or US. The table, which is located in the Web Resources section of the Society's website, can be downloaded in Excel format.