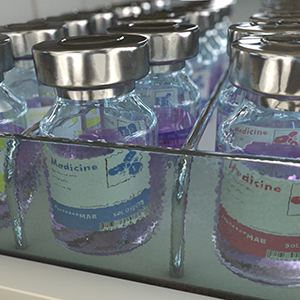 On January 6, 2023, the U.S. Food and Drug Administration approved Leqembi (lecanemab-irmb) via the Accelerated Approval pathway for the treatment of Alzheimer's disease. The labeling states that treatment with Leqembi should be initiated in patients with mild cognitive impairment or mild dementia stage of disease, the population in which treatment was studied in clinical trials. The approved dose of lecanemab is 10 milligram/kilogram every two weeks.
Lecanemab (BAN2401) is a humanized anti-amyloid beta protofibril IgG1k antibody initially developed by BioArctic Neuroscience. BAN2401 was licensed to Eisai in a collaboration agreement, allowing the jointly development of lecanemab as a treatment for Alzheimer disease (AD). Under an agreement with Biogen, Eisai and Biogen co-commercialize and co-promote lecanemab.
The accelerated approval was supported by data from Study 201 (NCT01767311), which assessed the clinical efficacy of lecanemab at multiple doses (2.5 mg/kg biweekly, 5 mg/kg monthly, 5 mg/kg biweekly, 10 mg/kg monthly, 10 mg/kg biweekly) or placebo and explored the dose response of lecanemab using a composite clinical score (ADCOMS) in 856 patients with mild cognitive impairment due to AD and mild AD with confirmed presence of amyloid pathology. Patients receiving the treatment had significant dose- and time-dependent reduction of amyloid beta plaque, with patients receiving the approved dose of lecanemab, 10 milligram/kilogram every two weeks, having a statistically significant reduction in brain amyloid plaque from baseline to Week 79 compared to the placebo arm, which had no reduction of amyloid beta plaque.
Lecanemab is also being evaluated in the Clarity AD Phase 3 study (NCT03887455), which is designed to evaluate the efficacy, long-term safety, and tolerability of 10 mg/kg IV lecanemab administered every 2 weeks in 1795 patients with early AD. The primary outcome measurement was the change from baseline in the Clinical Dementia Rating-Sum of Boxes (CDR-SB) at 18 months of treatment. In September 2022, Eisai Co and Biogen Inc announced positive topline results from Clarity AD Phase 3 trial where lecanemab met the primary endpoint by reducing by 27% the clinical decline on the CDR-SB compared with placebo at 18 months. All key secondary endpoints were also met. Based on results of the study, Eisai may file for traditional approval in the US and for marketing authorization applications in Japan and Europe.