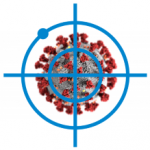 On November 20, 2020, the US Food and Drug Administration authorized the emergency use of casirivimab and imdevimab (REGN-COV2), both of which are recombinant human IgG1 monoclonal antibodies that target the receptor binding domain of the spike protein of SARS-CoV-2. This antibody cocktail has been shown to reduce COVID-19-related hospitalization or emergency room visits in patients at high risk for disease progression within 28 days after treatment when compared to placebo.
After reviewing the analysis of Phase 1 and 2 data from the ongoing Phase 1/2/3 NCT04425629 study, the agency concluded that "it is reasonable to believe that casirivimab and imdevimab, administered together, may be effective for the treatment of mild to moderate COVID-19 in adults and pediatric patients (12 years of age and older weighing at least 40 kg) with positive results of direct SARS-CoV-2 viral testing, and who are at high risk for progressing to severe COVID-19 and/or hospitalization, and that, when used under the conditions described in this authorization, the known and potential benefits of casirivimab and imdevimab, administered together, outweigh the known and potential risks of such product."
The EUA letter further states that distribution of REGN-COV2 will be directed by the U.S. government, and its EUA will be effective until the declaration that circumstances exist justifying the authorization of the emergency use of drugs and biological products during the COVID-19 pandemic is terminated or the EUA is revoked. The authorized dosage is 1,200 mg of casirivimab and 1,200 mg of imdevimab administered together as a single intravenous (IV) infusion over at least 60 minutes via pump or gravity as soon as possible after positive viral test for SARS-CoV-2 and within 10 days of symptom onset.
Regeneron was granted a $450 million contract to manufacture and supply REGN-COV2 by the US government, which has committed to making the doses available to Americans for free. The agreement covers a fixed number of bulk lots, as well as fill/finish and storage activities. Delivery of REGN-COV2 drug product started during the third quarter of 2020, and the company expects to have ~ 80,000 doses available by the end of November, ~200,000 total doses ready by the first week of January 2021, and ~ 300,000 total doses ready by the end of January 2021.