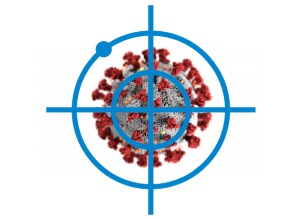 Biopharmaceutical companies, government agencies, academic institutions and non-profits located world-wide have mobilized in an unprecedented effort to develop interventions that are effective against SARS-CoV-2, the virus that causes COVID-19. This global pandemic, however, affects people of all ages and every health status. As a consequence, we need a wide array of medicines, as well as vaccines, to ensure the right intervention is given to the right person. And we need these interventions as quickly as possible.
In Part 1 of 'Coronavirus in the crosshairs', we focused on early clinical studies for small molecule drugs that were re-purposed, i.e., drugs that were already approved or in clinical studies for another disease, but were tested for efficacy in COVID-19 patients. In Part 2 of this series, we focus on vaccines currently in clinical study. Part 3 will focus on the use of anti-SARS-CoV-2 polyclonal antibodies found in convalescent plasma as a treatment for COVID-19, and Part 4 will examine efforts to quickly discover anti-SARS-CoV-2 antibody therapeutics.
Vaccines in preclinical and clinical development
The World Health Organization has compiled a list of SARS-CoV-2 vaccine initiatives that, as of March 20, 2020, included 42 vaccines in preclinical development and 2 vaccines in human Phase 1 studies, National Institutes of Health (NIH)/Moderna's mRNA-1273 vaccine and CanSino Biological Inc./Beijing Institute of Biotechnology's adenovirus Type 5 vector (Ad5-nCoV) vaccine.
In addition, the Regulatory Affairs Professionals Society is maintaining the Regulatory Focus COVID-19 Tracker, which is a resource for information on COVID-19 vaccine development that is updated weekly.
mRNA-1273 vaccine candidate
mRNA-1273 is a novel lipid nanoparticle-encapsulated mRNA-based vaccine that encodes for a full-length, prefusion stabilized spike protein of SARS-CoV-2. The  vaccine candidate has shown promise in animal models. Manufacturing of mRNA-1273 for the Phase 1 study (NCT04283461) was supported by the Coalition for Epidemic Preparedness Innovations. On March 16, 2020, NIH announced the study, which will assess the safety and immunogenicity of mRNA-1273,  had started. A total of 45 adults between the ages of 18 to 55 years will be enrolled, and the estimated primary completion date of the study is June 1, 2021. According to the protocol, however, the immunogenicity data will start being collected by mid-May 2020. Moderna announced on March 23, 2020 that, under emergency use, a vaccine could be available to some people, possibly including healthcare professionals, in the fall of 2020, although a commercially-available vaccine is not likely to be available for at least 12-18 months.
Enrollment will occur at the Kaiser Permanente Washington Health Research Institute. Forty-five healthy adults will be administered one of three doses (25 microgram [mcg], 100 mcg, 250 mcg). They will receive an intramuscular injection of mRNA-1273 on Days 1 and 29 in the deltoid muscle, and will be followed through 12 months post second vaccination (Day 394). The first four participants will receive one injection with the low dose, and the next four participants will receive the 100 mcg dose. Investigators will review safety data before vaccinating the remaining participants in the 25 and 100 mcg dose groups and before participants receive their second vaccinations. Another safety review will be done before participants are enrolled in the 250 mcg cohort. Follow-up visits will occur 1, 2 and 4 weeks post each vaccination, as well as 3, 6 and 12 months post second vaccination.
The primary objective is to evaluate the safety and reactogenicity and the secondary objective is to evaluate the immunogenicity as measured by IgG ELISA to the 2019-nCoV S protein following a 2-dose vaccination schedule of mRNA-1273 at Day 57.
Ad5-nCoV vaccine candidate
On March 17, 2020, CanSino Biologics Inc. announced that its recombinant novel coronavirus vaccine Ad5-nCoV, co-developed with Beijing Institute of Biotechnology, has been approved to enter into a Phase 1 clinical trial. The Phase 1 ChiCTR2000030906 study was listed as recruiting patients when its record was accessed March 23, 2020; NCT04313127 is assumed to be the same study.
The single-center, open and dose-escalation Phase 1 clinical trial will evaluate Ad5-nCoV in healthy adults aged between 18 and 60 years. Three doses will be evaluated, with a total of 108 patients (36 per study arm) receiving a low (5E10 vp Ad5-nCoV), medium (1E11 vp Ad5-nCoV) or high (1.5E11vp Ad5-nCoV) dose of vaccine. Various types of antibody responses will be measured at Day 14, 28, and months 3 and 6 post injection.
Other vaccine candidates
Clinical studies of two additional vaccine candidates, Covid-19 aAPC Vaccine and Covid-19 Synthetic Minigene Vaccine, are listed on clinicaltrials.gov as recruiting patients (NCT04299724 and NCT04276896, respectively), although the status of these initiatives could not be confirmed as of March 23, 2020. Both vaccine candidates are sponsored by Shenzhen Geno-Immune Medical Institute, Shenzhen Third People's Hospital, and Shenzhen Second People's Hospital.
Coronavirus image from: CDC/ Alissa Eckert, MS; Dan Higgins, MAMS