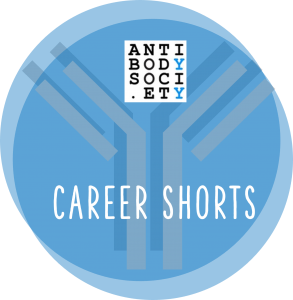 After the launch of our new Career Shorts series last week, we are proud to release our second episode with Dr Nimish Gera, Head of Biologics at Mythic Therapeutics! Check out our new episode via our new YouTube channel using the link below.
Career Shorts Ep 2: https://youtu.be/kOpuBxNdS5A
Our previous episode (Ep 1 with Dr Li Zhou): https://youtu.be/Y9xtGRLQaSM
Career shorts webpage: https://www.antibodysociety.org/career-shorts/
About Career shorts:
In this series, we talk to scientists and individuals working within the world of antibodies about the experiences that have shaped their careers and have got them to where they are today. Our goal by sharing their experiences and advice is to empower the next generation of scientists and leaders working in this field and beyond to make confident and empowered decisions.