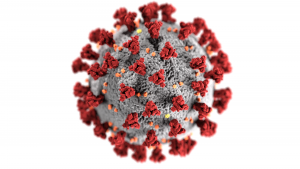 On February 9, 2021, the U.S. Food and Drug Administration issued an emergency use authorization (EUA) for bamlanivimab and etesevimab administered together for the treatment of mild to moderate COVID-19 in adults and pediatric who test positive for SARS-CoV-2 and who are at high risk for progressing to severe COVID-19. Developed by Eli Lilly and Company, bamlanivimab and etesevimab are monoclonal antibodies (mAbs) that target overlapping regions of the SARS-CoV-2 spike protein.
The EUA was based on a randomized, double-blind, placebo-controlled clinical trial in 1,035 non-hospitalized adults with mild to moderate COVID-19 symptoms who were at high risk for progressing to severe COVID-19. Of these patients, 518 received a single infusion of bamlanivimab (2.8 g) and etesevimab (2.8 g) together, and 517 received placebo. The primary endpoint was COVID-19 related hospitalizations or death by any cause during 29 days of follow-up.  Hospitalization or death occurred in 11 (2%) patients treated the mAb combination vs. 36 (7%) patients who received placebo. All 10 deaths (2%) occurred in the placebo group.
The authorized dosage of 700 milligrams bamlanivimab and 1400 milligrams etesevimab administered together is based on analyses of available preclinical, clinical, and virologic data, as well as pharmacokinetic and pharmacodynamic modeling, which, in totality, support that the authorized dosage is expected to have a similar clinical and virologic effect to the dose evaluated in the clinical trial. Use of the mAb combination is not authorized for patients who are hospitalized due to COVID-19 or require oxygen therapy due to COVID-19.
In November 2020, FDA issued an EUA for a single infusion of 700 mg bamlanivimab for the treatment of mild-to-moderate COVID-19 in adult and certain pediatric patients. Since the monotherapy and the combination treatment are expected to benefit patients at high risk of disease progression, both 700 milligrams bamlanivimab alone and the combination of 700 milligrams bamlanivimab and 1,400 milligrams etesevimab administered together will be available under an EUA.