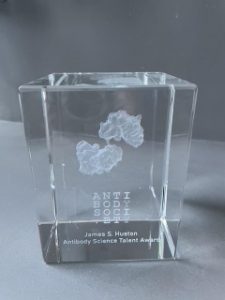 The James S. Huston Antibody Science Talent Award is sponsored by The Antibody Society to recognize and encourage upcoming scientists in the field of Antibody Engineering and Therapeutics. Early career research scientists who have received an advanced degree (Ph.D., M.D., or equivalent) within the past ten (10) years are eligible for the Award. The scientist is recognized for making important contributions to the antibody field and/or the dissemination of antibody knowledge. The recipient will be invited to give a lecture on their work, which will be made available on-line on The Antibody Society's website, and to give a lecture at the Antibody Engineering & Therapeutics conference in December 2022.
The award includes: international recognition of the scientist's accomplishments, a $1500 USD prize, and travel costs and registration fees to attend the annual Antibody Engineering & Therapeutics conference in San Diego, California.
The nomination process details are here. The deadline for submission is September 15, 2022.