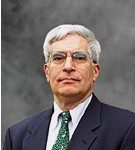 Post written by: Richard Begent, Ph.D., Emeritus Professor of Oncology, University College London
James S. Huston Jr, Ph.D., antibody engineer and founding President of The Antibody Society, died in Boston on March 25, 2020.
Jim Huston was a distinguished biophysicist and a pioneering antibody engineer; his creation of the single chain Fv (scFv) antibody was a seminal advance. These genetically encoded molecules could express the vast diversity of antibody repertoires, and could be used for specific target binding by themselves, incorporated into multifunctional molecules, attached to cell surfaces or applied in any number of formats relevant to biomedicine.
Antibodies with their multiple functions, including the capacity for specific binding to a range of targets, became practical pharmaceuticals with the advent of monoclonal antibodies as described by Köhler and Milstein in 1975. Genetic manipulation humanized the constant regions, making repeated administration feasible with widespread benefits for human health.
It was evident that the smallest target recognition moiety of antibodies, the variable region (Fv), if produced separately could be linked to many agents, conferring exquisite binding specificity. Since the VH and VL domains are separate in the native form of the Fv, they needed to be joined in a way that retained stability, the binding performance of the two components together, and appropriate flexibility.
Jim proposed doing this with one genetic construct that encoded a single-chain Fv (scFv) in which the VH and VL were joined by a flexible linker. The design issues were complex, but, consummate biophysicist that he was, he translated the requirements into a successful design for the linker. Working with colleagues at Creative Biomolecules, Massachusetts General Hospital and Harvard Medical School, an sFv reactive with digoxin was successfully produced and tested. The report (Huston et al 1988) of this work has been cited more than 2,300 times.
scFvs are readily expressed on the surface of filamentous bacteriophage and have often been the basis for naïve human antibody libraries with potential for rapid selection of desired binders from diverse libraries of many millions. This technology can be used for antibody discovery and humanization, and it has been the foundation of many successful commercial ventures. Jim's own work included the demonstration of scFv fusion proteins and the first scFv intrabody therapy for the neurodegenerative condition, Huntington's disease, an approach that is now being investigated in Parkinson's disease.
The scFv format itself forms the targeting basis of T-cell recruiting agents, bispecific T-cell engagers (BiTEs), and chimeric antigen receptors (CARs), the antigen binding moiety of CAR-T cells. A number of products based on these formats are already licensed for clinical use, while several others are in development. This is an important beginning, but the potential for further applications is great because of the diversity of antibody repertoires and the robust nature of the sFv format.
Jim graduated in Chemistry from the University of Michigan and was awarded his Ph.D. for work on the Fd fragment of IgG and its domains, supervised by Professor Charles Tanford at Duke University. After postdoctoral research at Stanford and Harvard Medical Schools, he joined Creative Biomolecules in Boston in 1983 where he undertook the original work on scFvs. There followed numerous publications and patents relating to engineered antibodies and their applications.
Jim was one of the first people to see the long-term potential of antibody engineering and recognize how broad the applications could be. His lectures on this topic gave a unique experience in that one sometimes seemed to be discovering the meaning of his data simultaneously with him. Those who had the privilege of working with him benefited greatly not only from his generosity, enthusiasm, intellectual rigor and encouragement, but also from his ability to advise wisely or find the appropriate expert. He took the mission of advancing antibody engineering to an international level by serving as the scientific adviser to the Antibody Engineering & Therapeutics meetings for nearly 30 years. Over time, he brought the antibody engineering and therapeutics community together at meetings in San Diego and elsewhere. His insistence that scientific quality and education were the principal criteria for the program resulted in progressive growth and helped to cement a culture encompassing academia and industry. Building on this, he co-founded The Antibody Society in 2007 and was the Founding President and Chairman, remaining a Board Member until his death. He shared the gratification of many that, after a long gestation, antibody engineering is proving so beneficial to human health, with the promise of much more to come.
Jim's many friends around the world will remember his love of life based on a deep Episcopalian faith, his pride and joy in his family, and the fortitude with which he bore illness over recent years.
The Antibody Society will honor Jim Huston and his many contributions to the field of antibody engineering at our next annual meeting.