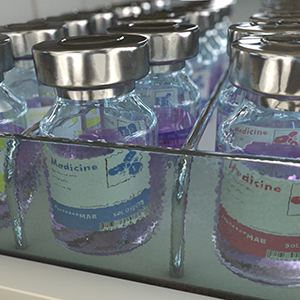 On December 27, 2021, the US Food and Drug Administration approved Adtralza® (tralokinumab) for the treatment of moderate-to-severe atopic dermatitis in adults 18 years or older whose disease is not adequately controlled with topical prescription therapies or when those therapies are not advisable. Tralokinumab had previously been approved in the European Union, in June 2021, for the treatment of moderate-to-severe atopic dermatitis in adult patients who are candidates for systemic therapy.
Tralokinumab is a human IgG4 antibody that interferes with IL-13-mediated signaling by blocking its interactions with both IL-13 receptor α1 and IL-13 receptor α2. The recommended dose is 300 mg administered subcutaneously every 2 weeks, with a loading dose of 600 mg on day 1, and the dose of 300 mg every 4 weeks for patients who achieve clear or almost clear skin after 16 weeks of treatment.
The approvals were supported by data from two Phase 3 monotherapy efficacy and safety studies (ECZTRA 1 (NCT03131648) and ECZTRA 2 (NCT03160885)), as well as a Phase 3 combination therapy efficacy and safety study (ECZTRA 3 (NCT03363854)). These studies included over 1900 patients who received either an initial dose of 600 mg tralokinumab (four 150 mg injections) on day 1, followed by 300 mg every 2 weeks up to Week 16, or they received matching placebo. Patients who responded to tralokinumab were re-randomized at Week 16 and administered tralokinumab maintenance subcutaneous injection regimen every 4 weeks for 36 weeks. In the ECZTRA 3 study, patients received concomitant topical corticosteroids on active lesions as needed. Tralokinumab was administered by subcutaneous injection in the studies. The primary endpoints, the proportion of patients with eczema area and severity index-75 at Week 16 and the proportion of patients with an Investigator's Global Assessment score of 0 or 1 at Week 16, were met in the three pivotal studies; however, the European Medicines Agency noted that the majority of patients enrolled in the two monotherapy studies did not respond to treatment.
Adtralza is the 13th antibody therapeutic to be first approved for marketing in the EU or US in 2021. Explore our searchable table of antibody therapeutics approved in the EU or US for details.