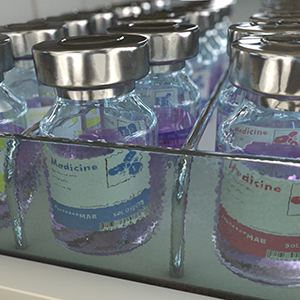 On January 21, 2020, the U.S. Food and Drug Administration (FDA) approved Tepezza (teprotumumab-trbw) for the treatment of adults with thyroid eye disease, which is associated with an outward bulging of the eye that can cause eye pain, double vision, light sensitivity or difficulty closing the eye. Teprotumumab, a human IgG1 antibody targeting insulin growth factor 1 receptor, was granted Fast Track, Breakthrough Therapy and Orphan Drug designations by the FDA. Positive data from both Phase 2 (NCT01868997) and Phase 3 (OPTIC, NCT03298867) studies were reported by Horizon Pharma. In the randomized, placebo-controlled OPTIC study, teprotumumab met the study's primary endpoint, which was a responder rate of ≥ 2 mm reduction of proptosis (bulging) in the study eye (without deterioration in the fellow eye) at Week 24. Data from the OPTIC study showed that 82.9% of patients receiving teprotumumab were proptosis responders compared to 9.5% of patients receiving placebo at Week 24 (p<0.001). All secondary endpoints in the study were also met.
The Antibody Society maintains a comprehensive table of approved monoclonal antibody therapeutics and those in regulatory review in the EU or US. The table, which is located in the Web Resources section of the Society's website, can be downloaded in Excel format. Information about other antibody therapeutics that may enter regulatory review in 2020 can be found in 'Antibodies to watch in 2020'.
Like this post but not a member? Please join!