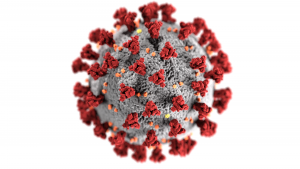 On March 27, 2021, the U.S. Food and Drug Administration issued an emergency use authorization (EUA) for sotrovimab (VIR-7831; GSK4182136) for the treatment of mild-to-moderate COVID-19 in adults and pediatric patients with positive results of direct SARS-CoV-2 viral testing and who are at high risk for progression to severe COVID-19, including hospitalization or death. The EUA was issued to GlaxoSmithKline.
Sotrovimab, a human anti-SARS-CoV2 antibody, is being evaluated in a Phase 1/2/3 randomized, double-blind, placebo-controlled clinical trial in non-hospitalized adults with mild-to-moderate COVID-19 symptoms and a positive SARS-CoV-2 test result. The EUA is based on an interim analysis of results for 583  patients in the study, 291 and 292  of whom received sotrovimab or placebo, respectively, within five days of onset of COVID-19 symptoms. The primary endpoint was progression of COVID-19 (defined as hospitalization for greater than 24 hours for acute management of any illness or death from any cause) through day 29. Hospitalization or death occurred in 21 (7%) patients who received placebo compared to 3 (1%) patients treated with sotrovimab.
Sotrovimab is administered as a 500 milligram single dose given intravenously over 30 minutes by health care providers.
Prior to the authorization of sotrovimab, FDA issued EUAs for the treatment of mild-to-moderate COVID-19 for two combinations of anti-SARS-CoV-2 monoclonal antibodies. The combination of casirivimab and imdevimab was authorized in November 2020 and the combination of bamlanivimab and etesevimab was authorized in February 2021. In addition, Celltrion's anti-SARS-CoV-2 antibody regdanvimab (CT-P59; Regkirona) received authorization in South Korea in February 2021.
More than 20 additional anti-SARS-CoV-2 monoclonal antibodies are undergoing evaluation in clinical studies. Of these, 7 monotherapies or combinations are in late-stage clinical studies, including ADG20 (Adagio Therapeutics) and AZD7442 (AstraZeneca). The Antibody Society will continue to track these investigational antibodies and report progress in the future.