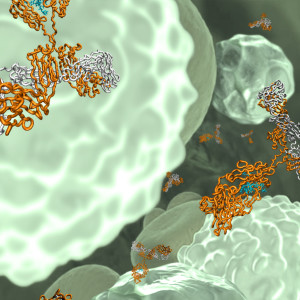 On April 9, 2019, the US Food and Drug Administration approved romosozumab-aqqg (Evenity) to treat osteoporosis in postmenopausal women at high risk of bone fractures. Developed by Amgen and UCB, romosozumab is a humanized IgG2 monoclonal antibody that targets sclerostin. This is the second global approval of romosozumab, following its approval in Japan.
FDA's approval was based the results of the Phase 3 placebo-controlled FRAME and active-controlled ARCH studies. As reported by Amgen, treatment with EVENITY resulted in a significant reduction of new vertebral fracture at 12 months compared to placebo in the FRAME study. This significant reduction in fracture risk persisted through the second year in women who received EVENITY during the first year and transitioned to denosumab compared to those who transitioned from placebo to denosumab. In addition, EVENITY significantly increased bone mineral density (BMD) at the lumbar spine, total hip and femoral neck compared to placebo at 12 months. Following the transition from EVENITY to denosumab at month 12, BMD continued to increase through month 24.
In the ARCH study, treatment with EVENITY for 12 months followed by 12 months of alendronate significantly reduced the incidence of new vertebral fracture at 24 months. EVENITY followed by alendronate significantly reduced the risk of clinical fracture (defined as a composite of symptomatic vertebral fracture and nonvertebral fracture) after a median follow-up of 33 months. EVENITY significantly increased BMD at the lumbar spine, total hip and femoral neck at 12 months compared to alendronate. Twelve months of treatment with EVENITY followed by 12 months of treatment with alendronate significantly increased BMD compared with alendronate alone.
The European Medicines Agency is reviewing a marketing application for romosozumab.
Like this post but not a member? Please join!
The Antibody Society maintains a comprehensive table of approved mAb therapeutics and those in regulatory review in the EU or US. Please log in to access the table, which is located in the Members Only section and can be downloaded in Excel format. Information about other antibody therapeutics that may enter regulatory review in 2019 can be found in 'Antibodies to watch in 2019'.