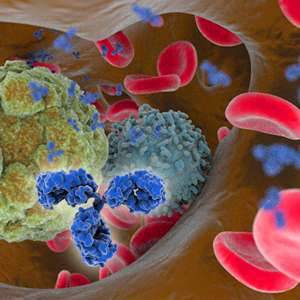 During 2014-2016, the pharmaceutical industry initiated first-in-human studies for an average of ~80 antibody-based therapeutics per year, and over 60% of these were designed to be treatments for cancer. The safety and tolerability of drugs are evaluated in Phase 1 studies, but preliminary efficacy may also be evaluated if the studies include patients rather than healthy volunteers. The anti-cancer antibodies new to the clinical pipeline in 2017 include two (CX-072, KN035) that target the programmed death-1 receptor ligand (PD-L1), and one each (CBT-501, FLYSYN) that target programmed death-1 receptor (PD-1) and Fms-like tyrosine kinase (FLT3), respectively.
PD-1 and PD-L1 are immune-checkpoint proteins that are frequently selected as targets for antibody therapeutics. Currently, two anti-PD-1 antibodies (pembrolizumab (Keytruda®), nivolumab (Opdivo®)) and two anti-PD-L1 antibodies (atezolizumab (Tecentriq®), avelumab (Bavencio®)) are approved for marketing, and one anti-PD-L1 antibody (durvalumab) is undergoing regulatory review. An additional 19 antibody-based therapeutics that target either PD-1 or PD-L1 are in clinical studies, with most (63%) in Phase 1 studies. Among these 19 are three antibodies, CX-072, KN035 and CBT-501, that recently entered their first clinical study. Developed by CytomX Therapeutics, CX-072 is a Probody targeting PD-L1. The first-in-human study (NCT03013491) of CX-072 as monotherapy and in combination with ipilimumab or with vemurafenib in patients with advanced or recurrent solid tumors or lymphomas started in January 2017. Probody therapeutics are designed to be activated by tumor-specific proteases, and thus may have minimal off-target effects. KN035, comprising an anti-PD-L1 single domain antibody fused with an Fc, is being evaluated in two Phase 1 studies (NCT02827968, NCT03101488) that started in 2017. Sponsored by 3D Medicines (Sichuan) Co., Ltd, the NCT02827968 study will evaluate the safety and tolerability of KN035 in patients with advanced and metastatic solid tumors, and the NCT03101488 study will evaluate and characterize the tolerability and safety profile of single agent KN035 in Chinese adults with unresectable advanced carcinoma. Anti-PD-1 CBT-501 (genolimzumab, GB-226) is a humanized IgG4 antibody with low antibody-dependent cell-mediated cytotoxicity (ADCC) and complement-dependent cytotoxicity activity. A Phase 1 dose-escalation study (NCT03053466) sponsored by CBT Pharmaceuticals, Inc. of CBT-501 in patients with select advanced or relapsed/recurrent solid tumors was started in Australia in March 2017.
Developed by the University of Tübingen and SYNIMMUNE GmbH, FLYSYN is a chimeric antibody that targets the extracellular domain of FLT3 and is optimized for enhanced ADCC. The Phase 1 NCT02789254 study, which was initiated in February 2017, will evaluate the safety, tolerability and preliminary efficacy of FLYSYN for the treatment of acute myeloid leukemia patients with minimal residual disease.
Like this post? Please join! Membership is free for students and employees of the Society's corporate sponsors.