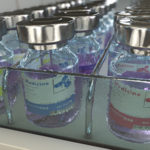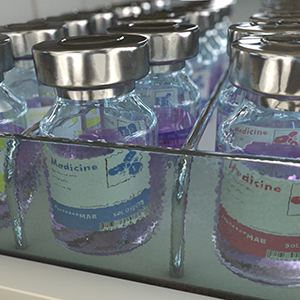 On June 11, 2020, the U.S. Food and Drug Administration approved Uplizna (inebilizumab-cdon) for the treatment of neuromyelitis optica spectrum disorder (NMOSD) in adult patients who are anti-aquaporin-4 (AQP4)-antibody positive. This rare disease primarily affects the optic nerves and spinal cord. Uplizna is a humanized anti-CD19 monoclonal antibody developed by Viela Bio. By targeting CD19, Uplizna depletes CD19+ B cells and plasmablasts responsible for the production of autoantibodies directed against AQP4, thereby ameliorating symptoms of the disease.
The effectiveness of inebilizumab was demonstrated in the Phase 2/3 N-MOmentum trial (NCT02200770). This study enrolled 230 patients with and without the AQP4-IgG antibody who were randomized 3:1 to receive either 2 doses of 300 mg of inebilizumab as a monotherapy or placebo at Day 1 and Day 15, and then followed for a total of 28 weeks. The primary endpoint (time to first attack) and a majority of the secondary endpoints of the study were met. Of patients in the anti-AQP4 antibody positive group, 89% remained relapse-free during the post-treatment period, compared to 58% of the patients taking placebo. There was no evidence of a benefit in patients who were anti-AQP4 antibody negative. Inebilizumab demonstrated a favorable safety and tolerability profile, with an adverse event rate similar to placebo.
Uplizna is the second antibody therapeutic to be approved in the US for NMOSD. FDA approved Soliris (eculizumab) injection for intravenous use for the treatment of NMOSD in adult patients who are anti-aquaporin-4 (AQP4) antibody positive in June 2019. Soliris, which targets C5 was first approved by FDA in 2007 for paroxysmal nocturnal hemoglobinuria. A biologics license application for anti-IL6R satralizumab as a possible treatment for NMOSD is currently under review at FDA. More information about antibody therapeutics approved in the US and EU, and those in regulatory review, can be found here.