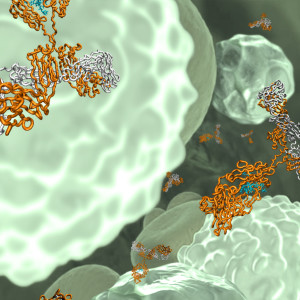 Provention Bio, Inc. has announced that the U.S. Food and Drug Administration (FDA) issued a Complete Response Letter relating to the company's biologics license application (BLA) for teplizumab for the delay of clinical type 1 diabetes (T1D) in at-risk individuals. In the letter, the FDA stated that a single, low-dose pharmacokinetic/pharmacodynamic (PK/PD) bridging study in healthy volunteers to compare planned commercial product with drug product originating from drug substance manufactured for historic clinical trials had failed to show PK comparability. This deficiency, and others noted in the letter, will need to be suitably addressed before approval.
Teplizumab (PRV-031) is a humanized IgG1k that binds to an epitope of the CD3-epsilon chain expressed on mature T lymphocytes, and thereby modulates the pathological immunologic responses underlying T1D and other autoimmune diseases. Teplizumab was granted FDA's Breakthrough Therapy designation for the prevention or delay of clinical T1D, and EMA granted teplizumab PRIME designation for the prevention or delay of clinical T1D in individuals at risk of developing the disease. Provention Bio acquired worldwide development and commercialization rights to teplizumab from MacroGenics, Inc. in 2018.
A rolling BLA for teplizumab for the delay or prevention of clinical Type 1 Diabetes (T1D) in at-risk individuals, as indicated by the presence of two or more T1D-related autoantibodies, was started in April 2020 and completed by November 2020. The BLA includes data from the Phase 2 "At-Risk" study (NCT01030861), which evaluated whether administration of teplizumab can prevent or delay the development of T1D in high-risk autoantibody-positive non-diabetic relatives of patients with T1D.  Participants received IV infusions of teplizumab given for 14 consecutive days (n=44) or placebo (n=32). Extended follow-up data showed that, compared to placebo, one course of teplizumab delayed insulin-dependence in presymptomatic T1D patients by a median of approximately three years. Participants in the "At-Risk" study who develop clinical type 1 diabetes after the conclusion of that trial can enroll in an extension study (NCT04270942) and receive teplizumab treatment within one year of diagnosis of clinical type 1 diabetes.
Teplizumab is also being evaluated in the Phase 3 PROTECT study (NCT03875729), which will determine whether teplizumab slows the loss of β cells and preserves β cell function in children and adolescents 8-17 years old who have been diagnosed with T1D in the previous 6 weeks. Estimated enrollment for the PROTECT study is 300 patients, and the estimated primary completion date is May 2022.
Need help keeping up to date on US and EU approvals?
The Antibody Society maintains a comprehensive table of approved monoclonal antibody therapeutics and those in regulatory review in the EU or US in the Web Resources section of our website.