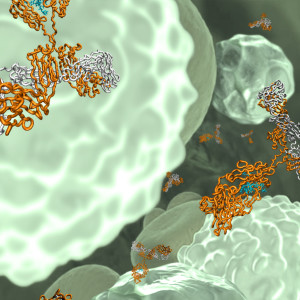 On November 14, 2017, AstraZeneca announced that benralizumab (Fasenra), an afucosylated IgG1 mab targeting the alpha subunit of IL-5R found on eosinophils, received a US Food and Drug Administration approval for the add-on maintenance treatment of patients with severe asthma aged 12 years and older, and with an eosinophilic phenotype. The European Medicines Agency's Committee for Medicinal Products for Human Use adopted a positive opinion on November 10, 2017, recommending the marketing authorization of benralizumab as an add-on maintenance treatment in adult patients with severe eosinophilic asthma inadequately controlled despite high-dose inhaled corticosteroids plus long-acting b-agonists. The European Commission's decision regarding marketing authorization in the EU is pending. Marketing applications for benralizumab are undergoing review in Japan and other countries. The mAb was in-licensed from BioWa, Inc., a wholly-owned subsidiary of Kyowa Hakko Kirin Co., Ltd. by MedImmune.
The safety and efficacy of benralizumab as a treatment for asthma were evaluated in the WINDWARD program, which included six Phase 3 trials, SIROCCO, CALIMA, ZONDA, BISE, BORA and GREGALE. The randomized, double-blinded, parallel-group, placebo-controlled SIROCCO (NCT01928771) and CALIMA (NCT01914757) trials evaluated the efficacy and safety of a regular, subcutaneous administration of a fixed 30 mg dose of benralizumab for up to 56 weeks in exacerbation-prone adult and adolescent patients 12 years of age and older. Study results were published in 2016. [1, 2] In the 28-week randomized ZONDA study (NCT02075255), the effects of 30 mg benralizumab administered subcutaneously either every 4 weeks or every 8 weeks (with the first three doses administered every 4 weeks) versus placebo on the reduction in the oral glucocorticoid dose while asthma control was maintained in adult patients with severe asthma. The study's primary outcome measure, percentage reduction in final oral steroid dose compared with baseline while maintaining asthma control, was met. The median final oral glucocorticoid doses from baseline were reduced by 75% in patients who received either dose of benralizumab,  compared with a reduction of 25% in the oral glucocorticoid doses in the placebo group (P<0.001 for both comparisons). [3]
Bleecker ER, FitzGerald JM, Chanez P, Papi A, Weinstein SF, Barker P, Sproule S, Gilmartin G, Aurivillius M, Werkström V, et al. Efficacy and safety of benralizumab for patients with severe asthma uncontrolled with high-dosage inhaled corticosteroids and long-acting β2-agonists (SIROCCO): a randomised, multicentre, placebo-controlled phase 3 trial. Lancet 2016; pii: S0140-6736(16)31324-1. doi: 10.1016/S0140-6736(16)31324-1.
FitzGerald JM, Bleecker ER, Nair P, Korn S, Ohta K, Lommatzsch M, Ferguson GT, Busse WW, Barker P, Sproule S, et al. Benralizumab, an anti-interleukin-5 receptor α monoclonal antibody, as add-on treatment for patients with severe, uncontrolled, eosinophilic asthma (CALIMA): a randomised, double-blind, placebo-controlled phase 3 trial. Lancet. 2016; pii: S0140-6736(16)31322-8. doi: 10.1016/S0140-6736(16)31322-8.
Nair P, Wenzel S, Rabe KF, Bourdin A, Lugogo NL, Kuna P, Barker P, Sproule S, Ponnarambil S, Goldman M; ZONDA Trial Investigators. Oral Glucocorticoid-Sparing Effect of Benralizumab in Severe Asthma. N Engl J Med. 2017;376(25):2448-2458. doi: 10.1056/NEJMoa1703501.
The Antibody Society maintains a comprehensive table of approved antibody therapeutics and those in regulatory review in the EU or US. As of November 15, 2017, a total of 9 mAbs have been granted first approvals in either the US or EU in 2017, and marketing applications for a total of 10 antibody therapeutics that have not yet been approved in either the EU or US are undergoing review in these regions.
Please log in to access the table, located in the Members Only section.
Not a member? Please join! Membership is free for students and employees of the Society's corporate sponsors.