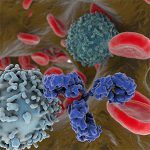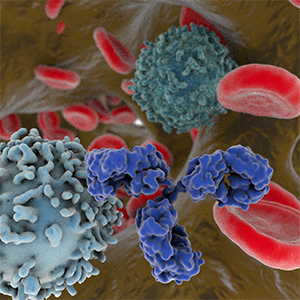 On May 21, 2021, U.S. Food and Drug Administration approved Rybrevant (amivantamab-vmjw) as the first treatment for adult patients with non-small cell lung cancer (NSCLC) whose tumors have specific types of genetic mutations: epidermal growth factor receptor (EGFR) exon 20 insertion mutations. Rybrevant received Priority Review and Breakthrough Therapy designation for this indication.
Amivantamab (JNJ-61186372; Janssen Pharmaceutical Companies of Johnson & Johnson) is a human, low-fucose IgG1-based bispecific antibody targeting EGFR and mesenchymal epithelial transition factor (MET) that was created using Genmab's DuoBody technology. Amivantamab has been shown to function through multiple mechanisms of action in preclinical models of NSCLC with EGFR exon 20 insertion driver mutations, which cause tumor cells to be insensitive to EGFR tyrosine kinase inhibitors.
The efficacy of amivantamab was evaluated in a study of 81 patients with non-small cell lung cancer and EGFR exon 20 insertion mutations whose disease had progressed on or after platinum-based chemotherapy. In the trial population in which all patients received the drug, the overall response rate was 40% and the median duration of response was 11.1 months, with 63% of patients having a duration of response of 6 months or more.
FDA's review was conducted under Project Orbis, an initiative of the FDA Oncology Center of Excellence. Project Orbis provides a framework for concurrent submission and review of oncology drugs among international partners. For review of amivantamab, the FDA collaborated with the Brazilian Health Regulatory Agency and United Kingdom's Medicines and Healthcare products Regulatory Agency.
Need help keeping up to date on US and EU approvals?
The Antibody Society maintains a comprehensive table of approved monoclonal antibody therapeutics and those in regulatory review in the EU or US. The table, which is located in the Web Resources section of the Society's website, can be downloaded in Excel format.