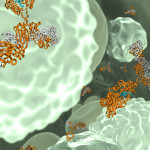 On or about the last day of February each year, the rare disease community comes together to raise awareness of these conditions. In the US, any disease affecting fewer than 200,000 people (1 per ~1,650 people) is considered rare, while a disease is defined as rare in Europe when it affects fewer than 1 in 2,000 people. There are more than 7,000 rare diseases, and these collectively affect ~ 25-30 million Americans. Information about specific rare diseases can be found in the National Organization for Rare Disorders' Rare Disorders Database and the National Institutes of Health's Genetic and Rare Diseases Information Center.
In the US, the Orphan Drug Act passed by Congress in 1983 incentivizes the development of drugs to treat rare diseases. Similar programs in Europe, Japan, as well as other countries, also allow other regulatory agencies to grant 'orphan drug' designations.  Hundreds of drugs have been approved for the treatment of rare diseases, including numerous antibody therapeutics, although substantial medical need still remains. Antibody therapeutics recently approved for rare diseases include:
Caplacizumab (Cablivi), a treatment for acquired thrombotic thrombocytopenic purpura, which is a rare blood clotting disorder.
Crizanlizumab (Adakveo), indicated to reduce the frequency of vaso-occlusive crisis, which is a painful complication of sickle cell disease that occurs when blood circulation is obstructed by sickled red blood cells.
Teprotumumab (Tepezza), indicated for thyroid eye disease, which is associated with an outward bulging of the eye that can cause eye pain, double vision, light sensitivity or difficulty closing the eye.
Inebilizumab (Uplizna) and satralizumab (Enspryng), treatments for neuromyelitis optica spectrum disorder, which is a rare autoimmune disorder of the central nervous system that primarily damages the optic nerve(s) and spinal cord, causing blindness, muscle weakness and paralysis.
Evinacumab (Evkeeza), a treatment for homozygous familial hypercholesterolemia, which is a genetic condition that causes severely high cholesterol.
Ansuvimab (Ebanga) and the triple antibody cocktail of atoltivimab, maftivimab, and odesivimab (Inmazeb) for the treatment for Zaire ebolavirus (Ebolavirus) infection.
Naxitamab (DANYELZA®) for the treatment of relapsed or refractory high-risk neuroblastoma in the bone or bone marrow.
More information about these antibody therapeutics, including target, format and year of approval, can be found here.
Other antibody therapeutics for rare diseases are in late-stage clinical studies and may be approved soon, including:
Garetosmab, which is undergoing evaluation as a treatment for fibrodysplasia ossificans progressive (FOP), an ultra-rare genetic disorder characterized by the progressive replacement of soft tissue, such as muscles, tendons, and ligaments, by bone, a process known as heterotopic ossification. Regeneron plans regulatory submission(s) for garetosmab for FOP in 2021.
Mirvetuximab soravtansine, which is undergoing evaluation as a treatment for ovarian cancer. ImmunoGen anticipates the submission of a biologics license application for accelerated approval of mirvetuximab soravtansine for ovarian cancer during the second half of 2021.
KN046, which is undergoing evaluation as a treatment for thymic carcinoma. Alphamab Oncology has announced that the Phase 2 clinical trial (NCT04469725) of KN046 to treat thymic carcinoma will support their plan to submit marketing applications for KN046 to China's National Medical Products Administration and the US Food and Drug Administration in 2021.
More information about antibody therapeutics in late-stage studies can be found in 'Antibodies to Watch in 2021'.
Keep up to date on US and EU approvals all year by visiting our website!
The Antibody Society maintains a comprehensive table of approved monoclonal antibody therapeutics and those in regulatory review in the EU or US. The table, which is located in the Web Resources section of the Society's website, can be downloaded in Excel format.