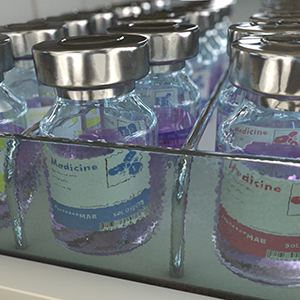 On May 19, 2023, the US Food and Drug Administration approved EPKINLY™ (epcoritamab-bysp) for the treatment of adult patients with relapsed or refractory (R/R) diffuse large B-cell lymphoma (DLBCL), not otherwise specified, including DLBCL arising from indolent lymphoma, and high-grade B‑cell lymphoma, after two or more lines of systemic therapy. Created using Genmab's DuoBody® technology, epcoritamab (GEN3013, DuoBody®-CD3xCD20) is a T cell-engaging bispecific IgG1k/l antibody targeting CD20 and CD3 that is jointly owned by Genmab and AbbVie. EPKINLY was approved under FDA's accelerated approval program based on response rate and durability of response. Continued approval for this indication is contingent upon verification and description of clinical benefit in a confirmatory trial(s).
FDA's approval was supported by data from the pivotal Phase 1/2 EPCORE NHL-1 trial (NCT03625037) studying epcoritamab in 157 patients with relapsed or refractory large B-cell lymphoma who had received at least two prior systemic therapies, including some who had received prior treatments with CAR-T cell therapy. The dose escalation findings from the Phase 1 part identified a dose of 48 mg as the recommended Phase 2 dose. In the Phase 2 part, patients received 48 mg of epcoritamab as 1 ml subcutaneous injections in 28-day cycles, with weekly dosing in Cycles 1-2, dosing every second week in Cycles 3-6, and dosing every 4 weeks from Cycle 7 onward. An overall response (complete or partial response) was seen in 61% (90/148 [95 percent confidence interval (CI): 52.5-68.7]) of patients and 38% (56/148 [95 percent CI: 30.0-46.2]) achieved complete remission. The median duration of response was 15.6 months (95 percent CI: 9.7-Not reached).
Epcoritamab is being investigated in multiple ongoing clinical studies across different settings and histologies. The most advanced of these is the randomized, open-label Phase 3 EPCORE™DLBCL-1 trial (NCT04628494) of epcoritamab vs investigator's choice chemotherapy in patients with R/R DLBCL. The study is recruiting an estimated 552 patients and has an estimated primary completion date in June 2024.
Interested in data for other antibody therapeutics that have received marketing authorizations? Go to our searchable table of approved antibody therapeutics and those in regulatory review for more information.