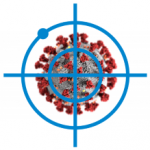 On October 7, 2020, Eli Lilly and Company and Regeneron announced that they have submitted requests to the  U.S. Food and Drug Administration (FDA) for emergency use authorizations (EUA) of their anti-SARS-CoV-2 monoclonal antibodies.
Lilly's EUA request is for bamlanivimab (LY-CoV555) monotherapy in higher-risk patients who have been recently diagnosed with mild-to-moderate COVID-19. According to the company, up to 100,000 doses of 700 mg LY-CoV555 monotherapy may be available in October, and one million doses available in Q4 2020.
The combination of LY-CoV555 and LY-CoV016, which bind complementary regions of the SARS-CoV-2 spike protein, for the treatment of symptomatic COVID-19 in an outpatient setting is also being evaluated. Lilly anticipates submission of an EUA request for combination therapy in November, and may have data to support a biologics license application submission for combination therapy as early as Q2 2021.
Regeneron's EUA request is for REGN-COV2, which is a combination of two anti-SARS-CoV-2 monoclonal antibodies (REGN10933 and REGN10987). Regeneron was granted a $450 million contract to manufacture and supply REGN-COV2 by the US government, which has committed to making the doses available to Americans for free. The agreement covers a fixed number of bulk lots that are intended to be completed in the fall of 2020, as well as fill/finish and storage activities. At the time of the EUA request, Regeneron had doses available for ~ 50,000 patients, and expects to have doses available for a total of 300,000 patients within several months.
The Antibody Society is tracking the progress of recombinant biologic COVID-19 interventions in preclinical and clinical studies. Summary data for all anti-SARS-CoV-2 antibodies in clinical studies can be found here.