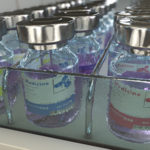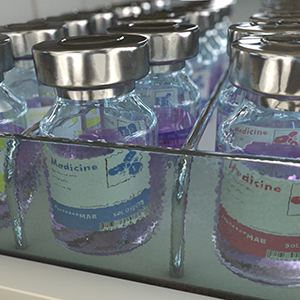 On July 31, 2020, the FDA approved Monjuvi® (tafasitamab-cxix) in combination with lenalidomide for the treatment of adult patients with relapsed or refractory diffuse large B-cell lymphoma (DLBCL) not otherwise specified, including DLBCL arising from low grade lymphoma, and who are not eligible for autologous stem cell transplant. FDA had granted Monjuvi® an orphan drug designation for this indication, as well as Fast Track and Breakthrough Therapy designations, and the biologics license application was given a Priority Review. Monjuvi® was approved under FDA's accelerated approval regulations, which require that further adequate and well-controlled studies/clinical trials be done to verify and describe clinical benefit. A marketing application for tafasitamab is undergoing evaluation by the European Medicines Agency.
Tafasitamab-cxix is a humanized cytolytic CD19-targeting monoclonal antibody that contains a IgG1/2 hybrid Fc-domain with 2 amino acid substitutions to modify the Fc-mediated functions of the antibody. Upon binding to CD19, tafasitamab-cxix mediates B-cell lysis through apoptosis and immune effector mechanisms, including antibody-dependent cell-mediated cytotoxicity and antibody-dependent cellular phagocytosis.
FDA's approval was based on the efficacy of Monjuvi® in combination with lenalidomide followed by Monjuvi® as monotherapy demonstrated in L-MIND (NCT02399085), an open label, multicenter single arm trial. Results from the study showed an overall response rate of 55% (primary endpoint), including a complete response rate of 37% and a partial response rate of 18%. The median duration of response was 21.7 months. The approval was granted to MorphoSys US Inc. MorphoSys and Incyte will co-commercialize the product in the United States. Incyte has exclusive commercialization rights outside the United States.
Antibodies to watch
Tafasitamab-cxix is the 6th antibody therapeutic to be granted a first approval in the US in 2020. Marketing applications for a substantial number of investigational antibody therapeutics are currently undergoing either FDA or EMA review, including:
Ansuvimab, a human IgG1 targeting Ebola virus glycoprotein for Ebola virus infection
Inolimomab, a mouse IgG1 targeting CD25 for host vs. graft disease
Bimekizumab, a humanized IgG1 targeting IL-17A, F for psoriasis
Omburtamab, a murine IgG1 targeting B7-H3 for CNS/leptomeningeal metastases from neuroblastoma
Tralokinumab, a human IgG4 targeting IL-13 for atopic dermatitis
Evinacumab, a human IgG4 targeting angiopoietin-like 3 for homozygous familial hypercholesterolemia
Sutimlimab, a humanized IgG4 targeting C1s for cold agglutinin disease
Aducanumab, a human IgG1 targeting amyloid beta for Alzheimer's disease
Teplizumab, a humanized IgG1 targeting CD3 for Type 1 diabetes
Dostarlimab, a humanized IgG4 targeting PD-1 for endometrial cancer
Tanezumab, a humanized IgG2 targeting nerve growth factor for osteoarthritis pain
Margetuximab, a chimeric IgG1 targeting HER2 for HER2+ breast cancer
Naxitamab, a humanized IgG1 targeting GD2 for high-risk neuroblastoma and refractory osteomedullary disease
Belantamab mafodotin, a humanized IgG1 antibody-drug conjugate targeting BCMA for multiple myeloma
Oportuzumab monatox, a humanized scFv immunotoxin targeting EpCAM for bladder cancer
REGNEB3 (odesivimab, maftivimab, atoltivimab), a mixture of 3 human IgG1 targeting Ebola virus for Ebola virus infection
Narsoplimab, a human IgG4 targeting MASP-2 for hematopoietic stem cell transplant-associated thrombotic microangiopathies
Satralizumab, a humanized IgG2 targeting IL-6R  for neuromyelitis optica and neuromyelitis optica spectrum disorders
The Antibody Society maintains a comprehensive table of approved monoclonal antibody therapeutics and those in regulatory review in the EU or US. The table, which is located in the Web Resources section of the Society's website, can be downloaded in Excel format. Information about other antibody therapeutics that may enter regulatory review in 2020 can be found in 'Antibodies to watch in 2020'.
Like this post but not a member? Please join!