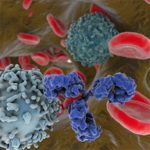 On November 25, 2020, Y-mAbs announced that the FDA approved naxitamab-gqgk (DANYELZA®) 40mg/10ml in combination with granulocyte-macrophage colony-stimulating factor for the treatment of pediatric patients 1 year of age and older and adult patients with relapsed or refractory high-risk neuroblastoma in the bone or bone marrow who have demonstrated a partial response, minor response, or stable disease to prior therapy. The approval for this indication was granted under FDA's accelerated approval regulations based on the overall response rate and duration of response.
Naxitamab, a humanized anti-GD2 IgG1k antibody was developed by Memorial Sloan Kettering Cancer Center and licensed to Y-mAbs Therapeutics. FDA granted Breakthrough Therapy and  Rare Pediatric Drug designations to naxitamab for the treatment of patients with neuroblastoma, and naxitamab was granted Orphan Drug designations in the EU and US for this indication.
DANYELZA® is the 10th antibody therapeutic to be granted a first approval in the US or EU in 2020.
The Antibody Society maintains a comprehensive table of approved monoclonal antibody therapeutics and those in regulatory review in the EU or US. The table, which is located in the Web Resources section of the Society's website, can be downloaded in Excel format.