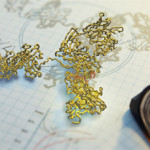 As evident from papers published in mAbs in recent years, computation is being increasingly used in the discovery and development of antibody-based biologic drugs. To celebrate the rise of biopharmaceutical informatics directed towards antibody R & D, we invite The Antibody Society members, mAbs readers and the broader scientific community to contribute review articles focused on highlighting how computation has enabled their investigations or led them to new ones. The reviews should narrate the state of the art and speculate on new vistas for computational applications in the field.
We are particularly interested in reviews in the following topics:
Analyses of immune repertoires and their role in target validation and drug discovery.
Analyses of antibody structure-function relationships with emphasis on therapeutic antibody-based biologics.
Structure-based design of antibody fragments (e.g., nanobodies) and antibody-based multi-specific molecular formats.
Design of antibody libraries for different display strategies and/or with improved developability.
Structure-based affinity maturation and optimization of biologic lead candidates.
Molecular simulations of antibodies to understand their solution behaviors, such as aggregation, viscosity and physicochemical degradation.
Consideration of developability in biologic drug discovery and design.
Developability assessments at early-stage development.
Specific and non-specific interactions formed by antibodies in vitro and in vivo.
Computation in antibody formulations – design of novel excipients.
Applications of artificial Intelligence and machine learning towards antibody discovery, development and manufacturing.
Progress and challenges in modeling antibodies and multi-specific formats.
Predicting chemical degradation in antibody-based biologic drugs.
Optimizing antigens for greater immunization success.
Although these topics are especially of interest, we welcome well-written reviews in related areas as well.
Publication charges will be waived for six of the best review articles selected from pre-submission inquiries, which should consist of the title, abstract and general outline of the intended review article.
The deadline for the pre-submission enquiries is February 15, 2021, and the deadline for submission of the completed review articles is June 30, 2021.
Please send pre-submission inquiries to Assistant Editor Dr. Sandeep Kumar (skumarmabs@gmail.com) and Editor-in-Chief Dr. Janice Reichert (reichert.biotechconsulting@gmail.com), and contact us if you have any questions.