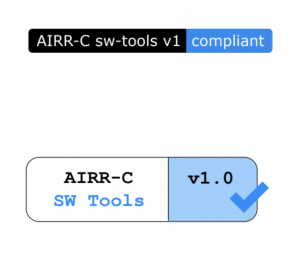 The AIRR Community is excited to announce that TRUST4 has been certified as compliant with the AIRR-C v1.0 standard for AIRR-Seq software tools. TRUST4 (Tcr Receptor Utilities for Solid Tissue 4) is a tool for assembling BCRs and TCRs from bulk and single-cell RNA-Seq data.
In an effort to enable rigorous and reproducible immune repertoire research at the largest scale possible, the AIRR-C Software Working Group has established a standard to validate software tools using the AIRR-C Standards and meeting a series of interoperability and quality criteria. Developers interested in certifying their tools should complete the checklist and submit it to the AIRR-C Software Working Group for evaluation and ratification by its members.
More details can be found at the website AIRR Software WG – Guidance for AIRR Software Tools.
All compliant tools will be issued a badge and listed on the website AIRR Software WG – List of Tools Certified as Compliant. The list currently includes SONAR, ImmuneDB, Scirpy, Immcantation, CompAIRR, ImmuneML and Dandelion in addition to TRUST4.