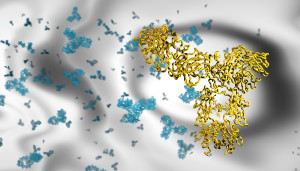 On February 15, 2017, the US Food and Drug Administration approved brodalumab (Siliq; Valent Pharmaceuticals International, Inc.) to treat adults with moderate-to-severe plaque psoriasis. Brodalumab, an IgG2 monoclonal antibody targeting the interleukin (IL)-17 receptor, inhibits the biological activity of IL-17A, IL-17F and other IL-17s. Labeling for brodalumab includes a Black Box Warning for the risks of suicidal thoughts or behavior. The product was approved with a Risk Evaluation and Mitigation Strategy (REMS) that includes prescriber and pharmacy certifications and informed consent by patients.
Brodalumab was granted its first marketing approval from the Ministry of Health, Labour and Welfare in Japan on July 4, 2016 for the treatment of psoriasis vulgaris, psoriatic arthritis, pustular psoriasis, and psoriatic erythroderma. The product's brand name in Japan is Lumicef®. A marketing authorization application for brodalumab in psoriasis is undergoing evaluation by the European Medicines Agency.
The Antibody Society maintains a comprehensive table of approved antibody therapeutics and those in regulatory review in the EU or US. As of February 16, 2017, marketing applications for a total of 12 antibody therapeutics that have not been approved in any country are undergoing review in the EU or US. In addition, marketing applications for sarilumab, which is approved in Canada, and gemtuzumab ozogamicin, which was FDA approved in 2000 and subsequently withdrawn from the US market, are undergoing review in the EU and US.
Please log in to access the table, located in the Members Only section.
Not a member? Please join!
Membership is free for employees of the Society's corporate sponsors.