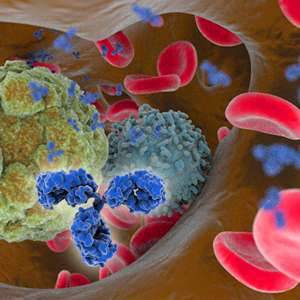 On March 22, 2023, the US Food and Drug Administration approved Zynyz™ (retifanlimab-dlwr) for the treatment of adults with metastatic or recurrent locally advanced Merkel cell carcinoma (MCC). Retifanlimab (INCMGA00012, MGA012) is a humanized, hinge-stabilized IgG4k antibody targeting PD-1. The biologics license application for Zynyz for MCC was approved under accelerated approval based on tumor response rate and duration of response.
FDA's approval was based on data from the Phase 2 POD1UM-201 trial (NCT03599713), an open-label, multiregional, single-arm study that evaluated Zynyz in adults with metastatic or recurrent locally advanced MCC who had not received prior systemic therapy for their advanced disease. In this study, patients received Zynyz 500 mg intravenously every four weeks until disease progression, unacceptable toxicity, for up to 24 months. The primary endpoint was objective response rate (ORR) as determined by independent central radiographic review using RECIST v1.1. Secondary endpoints included duration of response (DOR), disease control rate (DCR), progression-free survival (PFS), and overall survival (OS). Among chemotherapy-naïve patients (n=65), Zynyz monotherapy resulted in an ORR of 52% (95% confidence interval [CI]: 40-65). Complete response was seen in 12 patients (18%), and 22 patients (34%) showed partial response. Among the responding patients, the DOR ranged from 1.1 to 24.9+ months; 76% (26/34) experienced a DOR of six months or longer and 62% (21/34) experienced a DOR of 12 months or longer by landmark analysis.
Incyte Corporation, which licensed retifanlimab from MacroGenics in 2017, is sponsoring clinical studies evaluating retifanlimab monotherapy as a treatment for other cancers, including endometrial cancer, non-small cell lung cancer, and squamous cell carcinoma of the anal canal.