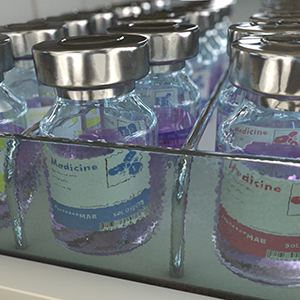 On June 27, 2023, the US Food and Drug Administration approved RYSTIGGO® (rozanolixizumab-noli) for the treatment of generalized myasthenia gravis (gMG) in adult patients who are anti-acetylcholine receptor or anti-muscle-specific tyrosine kinase antibody positive. Rozanolixizumab-noli is a humanized IgG4 monoclonal antibody that binds to the neonatal Fc receptor, resulting in the reduction of circulating IgG. The drug is administered by subcutaneous infusion. UCB has indicated that rozanolixizumab-noli will be commercially available in the US during the 3rd quarter of 2023.
FDA's approval is supported by safety and efficacy data from the pivotal Phase 3 MycarinG study (NCT03971422), published in The Lancet Neurology in May 2023. The primary efficacy endpoint was the comparison of the change from baseline between treatment groups in the MG-ADL total score at day 43. MG-ADL is a measurement tool which assesses the impact of gMG on daily functions of 8 signs or symptoms that are typically affected in gMG, such as breathing, talking, swallowing, and being able to rise from a chair. Each item is assessed on a 4-point scale where a score of 0 represents normal function and a score of 3 represents loss of ability to perform that function. A total score ranges from 0 to 24, with the higher scores indicating more impairment. A statistically significant difference favoring rozanolixizumab-noli was observed in the MG-ADL total score change from baseline [-3.4 points in rozanolixizumab-noli-treated group at either dose vs -0.8 points in the placebo-treated group (p<0.001)].
Interested in data for other antibody therapeutics that have received marketing authorizations? Go to our searchable table of approved antibody therapeutics and those in regulatory review for more information.