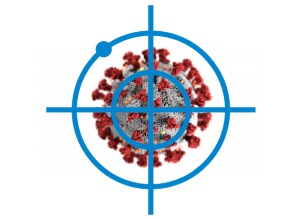 On June 1, 2020, Eli Lilly and Company announced LY-CoV555, an anti-SARS-CoV2 IgG1 antibody,  has been administered to COVID-19 patients. LY-CoV555 is the first antibody specifically targeting SARS-COV-2 to enter clinical study.
The antibody was developed via a collaboration between Lilly and AbCellera. AbCellera,  with the Vaccine Research Center at the National Institute of Allergy and Infectious Diseases, isolated single B cells from convalescent patients, identified a pool of ~500 candidate antibodies against the virus' spike protein and selected leads from this pool. Lilly scientists further developed LY-CoV555 in just three months. The placebo-controlled study (J2W-MC-PYAA) will assess the safety, tolerability, pharmacokinetics, and pharmacodynamics of LY-CoV555 following a single dose in patients hospitalized with COVID-19. Results are anticipated by the end of June 2020. The company intends to test LY-CoV555 and other neutralizing antibodies against SARS-CoV-2 over the next several months as monotherapy or antibody cocktails for  COVID-19.
As detailed in "Coronavirus in the crosshairs, Part 9", more than 15 organizations have announced that their anti-SARS-CoV-2 molecules may enter clinical study during June to December 2020. The abundance of potential clinical candidates has enabled some organizations, including Eli Lilly and Company, Sorrento Therapeutics, Vir Biotechnology, Vanderbilt University Medical Center and Yumab, to engage in multiple partnerships, thereby allowing rapid development of multiple assets. Further information about other anti-SARS-CoV-2 antibodies that might enter clinical study soon can be found here.