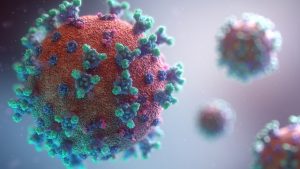 Interested in antibody/B-cell and T-cell receptor sequences derived from COVID-19 patients?
The iReceptor Project's COVID-19 specific data repository has > 180 million sequences of AIRR-seq data (massive repertoires of antibody/B-cell and T-cell receptor sequences) from 5 studies of COVID-19 patients.
The data are available for download in a standard AIRR.tsv format, which makes it easy to import the data into many AIRR.seq analysis programs, and more COVID-19 studies will be available soon.
The iReceptor Gateway allows researchers to compare the COVID-19 data to ~2.5 billion immune receptor sequences from other infectious diseases, cancer studies, autoimmune patients and healthy control individuals. The Gateway can be used, for example, to determine whether antibodies discovered in COVID-19 patients are "public" (appearing in many individuals from many conditions including healthy controls) or "private" (only appearing in patients exhibiting severe COVID-19 reactions). This information and other repertoire comparisons should greatly accelerate the development of anti-COVID therapeutics and vaccines.
Present functionalities include:
Search for repertoires satisfying certain metadata (e.g. find all AIRR-seq repertoires from ovarian cancer studies)
Search for all repertoires that contain specific CDR3 sequences
Search identified repertoires for sequences derived from particular V, D, and J genes and alleles
Download sequences from these repertoires in AIRR.tsv format, easily importable to other AIRR-seq analysis tools
The iReceptor Gateway follows the protocols and standards developed by the AIRR-Community to facilitate sharing and analysis of AIRR-seq data. The AIRR Community, part of The Antibody Society, is a grassroots group of immunologists, immunogeneticists and computer scientists dedicated to sharing data through the AIRR Data Commons.  The iReceptor Project implements this Data Commons, and the development of the COVID-specific repository on the iReceptor Gateway follows the call from the AIRR Community for increased sharing of data during the coronavirus crisis.
Researchers interested in sharing data or exploring the AIRR Data Commons through the open iReceptor Gateway should visit www.ireceptor.org and contact support@ireceptor.org for an account.
iReceptor is a member of the iReceptor Plus Consortium.