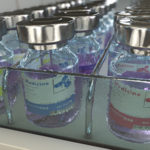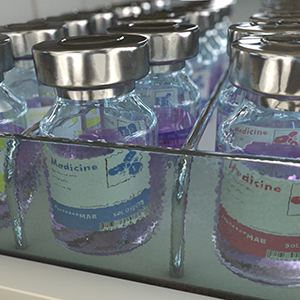 On November 9, 2020, the US Food and Drug Administration authorized the emergency use of anti-SARS-CoV-2 bamlanivimab (LY-CoV555, LY3819253). The agency stated that "it is reasonable to believe that bamlanivimab may be effective for the treatment of mild to moderate COVID-19 in adults and pediatric patients with positive results of direct SARS-CoV-2 viral testing who are 12 years of age and older weighing at least 40 kg, and who are at high risk for progressing to severe COVID-19 and/or hospitalization, and that, when used under the conditions described in this authorization, the known and potential benefits of bamlanivimab when used to treat COVID-19 in such patients outweigh the known and potential risks of such product."
Bamlanivimab is a human IgG1 antibody directed against the receptor binding domain of the spike protein of the SARS-CoV-2 coronavirus. AbCellera and Eli Lilly and Company partnered on the discovery and development of the antibody, which was derived from B cells of convalescent patients. The EUA was based on review of the topline data from the planned interim analysis of BLAZE-1 (NCT04427501), an ongoing randomized, double-blind, placebo-controlled, Phase 2 dose-finding trial of bamlanivimab monotherapy in outpatients with mild to moderate COVID-19.
The EUA letter indicates that distribution of the authorized bamlanivimab (700 mg/20 mL) will be controlled by the United States Government for use consistent with the terms and conditions of the EUA, and that the EUA is effective only while circumstances exist justifying the authorization of emergency use during the COVID-19 pandemic.