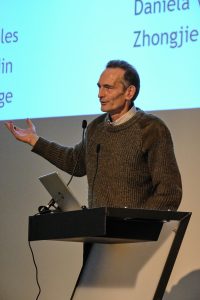 Speaker: Dr. Andrew Bradbury is Chief Scientific Officer of Specifica. His present research interests lie in improving in vitro display technologies in order to make in vitro antibody selection the preferred method to generate highly specific, high affinity antibodies. Within this context he uses next-generation sequencing extensively during library construction and selections, and has developed an antibody selection pipeline that combines phage and yeast display in methods that exploit the advantages of each. He maintains an active interest in technology development as it relates to display methods and antibody engineering.
He was trained in medicine at the universities of Oxford and London, and subsequently practiced medicine for five years (one full time, and four part time) in the UK.  He received his Ph.D. (Cambridge University) in the MRC Laboratory of Molecular Biology under the guidance of César Milstein.  After his Ph.D. he spent 10 years in Italy: three as a post-doctoral fellow in the CNR Institute of Neurobiology, Rome, Italy, where he was involved with cloning antibody genes for use in intra- and inter-cellular immunization; and seven in Trieste, where he was first visiting professor, and subsequently tenured as assistant professor at the International School for Advanced Studies (SISSA, Trieste, Italy).  He moved to Los Alamos National Lab in July 1999, as a research scientist, and became a group leader in 2010. He left LANL in June 2017 to join Specifica (www.specifica.bio), a start-up he founded in 2016 to provide next-generation exclusive phage antibody libraries to the biopharmaceutical and biotechnology industries.
He was a founding member and the first president (2007-2010) of The Antibody Society. He has published 160 articles, including a number of reviews and perspectives on phage display and antibody engineering. He recently published a commentary in Nature calling for changes in the way research antibodies are supplied, arguing that they should be sequenced and expressed recombinantly in order to improve reproducibility.