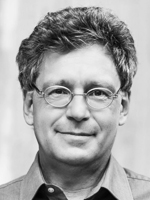 Andreas Plückthun, Ph.D., is a Professor of Biochemistry and Director of the Department of Biochemistry at the University of Zurich, Switzerland. His research is centered on protein engineering. His contributions have included many aspects of antibody engineering, protein expression technology, design of synthetic antibody libraries, the development of ribosome display as an in vitro protein evolution technology, development of new scaffolds (the DARPin technology), and recently the directed evolution of G-protein coupled receptors towards high stability, which has allowed determination of their crystal structures.
His work has been published in over 380 papers, which have been cited over 20,000 times (h-index 86). He is an inventor on more than 20 patent families. In 2003 he was elected as member of the German Academy of Science (Leopoldina).
He received the Young Investigator's Award of the German Industry Fund and was elected member of EMBO. In 2000, he received the Karl-Heinz-Beckurts Award (Germany) and in 2001 he became a finalist in the World Technology Awards in the Biotechnology category. In 2002 he received the J. P. Morgan Chase Award of The Tech Museum of Innovation (San Jose, USA), the Wilhelm-Exner-Medal (Vienna, Austria) and The Jury's Grand Prix of the European Grand Prix for Innovation Awards (Monaco).  In 2005 he received, together with a team from Molecular Partners, the deVigier Award and the Swiss Technology Award. In 2011 he was awarded a Senior Investigator Grant of the European Research Council.
In 1992, he co-founded the Munich biotech company MorphoSys AG (TecDAX: MOR).  In 2004 he co-founded the biotech company Molecular Partners AG in Zurich (SIX: MOLN).
He studied chemistry at the University of Heidelberg (Germany) and received his graduate education at the University of California at San Diego, where he obtained a Ph.D. in 1982 with Prof. Edward Dennis. He was a postdoctoral fellow at the Chemistry Department of Harvard University (1982-85) where he worked with Prof. Jeremy Knowles. From 1985 until 1993, he was group leader at the Genzentrum and Max-Planck-Institut für Biochemie in Martinsried (Germany). He was appointed to the faculty of the University of Zürich (Switzerland) as a Full Professor of Biochemistry in 1993.