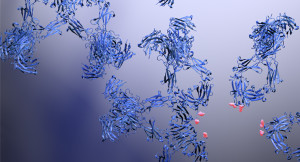 On May 18, 2016, anti-PD-L1 atezolizumab (Tecentriq®) was approved by the Food and Drug Administration (FDA) as a treatment for patients with locally advanced or metastatic urothelial carcinoma. The marketing application for atezolizumab had received breakthrough therapy designation, priority review status and accelerated approval for this indication. A PD-L1 (SP142) assay complementary diagnostic to detect PD-L1 protein expression levels on the tumor-infiltrating immune cells of patients was also approved. An FDA action on a second application for use of atezolizumab as a treatment for patients with non-small cell lung cancer is expected by October 2016. Atezolizumab is the fourth antibody that inhibits an immune checkpoint to be granted a marketing approval. Two anti-PD1 antibodies, nivolumab (Opdivo®) and pembrolizumab (Keytruda®), were approved in 2014 in the US (2015 in the EU), and one anti-CTLA4 antibody, ipilimumab (Yervoy®), was approved in the US and EU in 2011. Atezolizumab is the fourth antibody product to be granted a first marketing approval in 2016.
Six additional antibody therapeutics (bezlotoxumab, sarilumab, brodalumab, Xilonix, begelomab, olaratumab) are now undergoing their first regulatory review in the European Union and the United States. If these antibodies are approved by the end of the year, the number of first approvals for antibody products in 2016 will set a new record (10 products), exceeding by 1 the previous record set in 2015. The Antibody Society maintains a comprehensive table of approved antibody therapeutics and those in regulatory review in the European Union and the Unites States. The antibody's target, format and year of first approval are included. Please log in to access the table, located in the Members Only section.
Not a member? Please join!