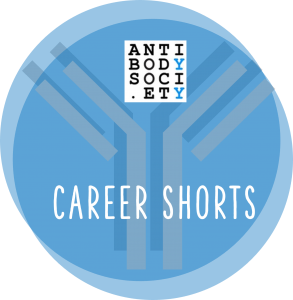 Career shorts Ep 3 is now available! Check out this new episode where we talk to Professor Charlotte Deane from the University of Oxford. See below for full details.
Career Shorts Ep 3: https://www.youtube.com/watch?v=4b7P6_F5uHg
Our previous episodes can be accessed: https://www.youtube.com/channel/UCg7QsNWgfvkWUPV7gTOLUXA
Career shorts webpage: https://www.antibodysociety.org/career-shorts/
About Career Shorts:
In this series, we talk to scientists and individuals working within the world of antibodies about the experiences that have shaped their careers and have got them to where they are today. Our goal by sharing their experiences and advice is to empower the next generation of scientists and leaders working in this field and beyond to make confident and empowered decisions.
About Charlotte:
Prof Charlotte Deane ( http://www.stats.ox.ac.uk/~deane/ ) leads the Oxford Protein Informatics group, a research group of over 25 people working on diverse problems across protein structure, immunoinformatics, interaction networks and small molecule drug discovery. She is also Deputy Executive Chair of the Engineering and Physical Sciences and Council and the Covid-19 Response Director for UK Research and Innovation.
Twitter: @OPIGlets
Group website: OPIG (ox.ac.uk)