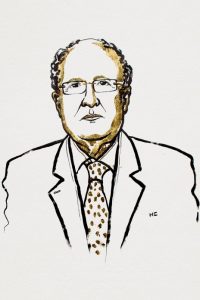 Sir Gregory P. Winter (MRC Laboratory of Molecular Biology, Cambridge, UK) was named Nobel Laureate by The Royal Swedish Academy of Sciences on October 3, 2018 "for the phage display of peptides and antibodies". He shares the Nobel Prize in Chemistry with Frances H. Arnold (California Institute of Technology, CA, US) and George P. Smith (University of Missouri-Columbia, US). More information about the Nobel Prize can be found here.
Sir Greg Winter's work on phage display and humanization of antibodies revolutionized the field and led to the approval of the first phage display-derived antibody, adalimumab (1). Although new methodologies have been used and implemented, phage display (2, 3) and humanization remain among the most important techniques used to drive antibody discovery and development of antibody-based therapeutics.
The Antibody Society is proud to have Sir Greg Winter among its scientific advisors.
References:
1. Guiding the Selection of Human Antibodies from Phage Display Repertoires to a Single Epitope of an Antigen
2. Phage display-derived human antibodies in clinical development and therapy
3. Drugs derived from phage display