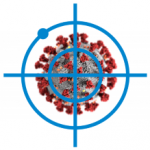 On September 16, 2020, Eli Lilly and Company announced proof of concept data from an interim analysis of the Phase 2 BLAZE-1 clinical trial (NCT04427501) of LY-CoV555 (also known as LY3819253), an anti-SARS-CoV-2 IgG1 antibody. The randomized, double-blind, placebo-controlled study included 4 arms (placebo, 700 mg, 2800 mg, and 7000 mg administered intravenously (IV)), and enrolled mild-to-moderate recently diagnosed COVID-19 patients. Treatment is provided in an outpatient setting. The study was initiated on June 17, 2020 and has an estimated primary completion date of September 20, 2020.
The prespecified primary endpoint, change from baseline in viral load at day 11, was met at the 2800 mg dose level, but not the others. Additional analyses of viral data demonstrated that LY-CoV555 improved viral clearance at an earlier time point (day 3) and reduced the proportion of patients with persistently high viral load at later time points. Most patients, including those receiving placebo, demonstrated near complete viral clearance by day 11.
Analysis of pooled data from all dose groups indicated the rate of hospitalizations and ER visits was 1.7% (5/302) for LY-CoV555 vs. 6% (9/150) for placebo. Across all treatment groups (including placebo), no patients progressed to mechanical ventilation or died.
Viral RNA sequencing revealed putative LY-CoV555-resistance variants in placebo and all treatment arms. The rate of resistance variants was numerically higher in treated patients (8 percent) versus placebo (6 percent).
LY-CoV555 was well-tolerated, with no drug-related serious adverse events reported. Treatment emergent adverse events were similar across all dose groups and comparable to placebo.
Details for the BLAZE-1 study were updated on August 21, 2020 to include an experimental treatment arm comprising LY3819253 + LY3832479 (also known as LY-CoV016) administered IV.  LY-CoV016 binds a different epitope in the SARS-CoV-2 spike region compared to LY-CoV555. Across all treatment arms, the trial will enroll an estimated 800 participants.
Summary data for all anti-SARS-CoV-2 antibodies in clinical studies can be found here.