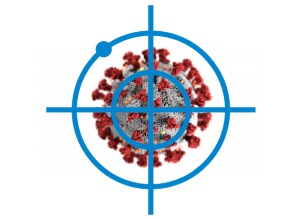 On December 8, 2021, the U.S. Food and Drug Administration issued an emergency use authorization (EUA) for AstraZeneca's Evusheld (tixagevimab co-packaged with cilgavimab and administered together) for the pre-exposure prophylaxis (prevention) of COVID-19 in certain adults and pediatric individuals (12 years of age and older weighing at least 40 kilograms [about 88 pounds]).
Evusheld, comprising the combination of 2 human anti-SARS-CoV-2 IgG1k antibodies, was derived from B cells from convalescent patients after infection with SARS-CoV-2. Discovered by Vanderbilt University Medical Center, the antibodies bind to distinct sites on the SARS-CoV-2 spike protein. These antibodies were licensed to AstraZeneca in June 2020, and then engineered with mutations that extend half-life (YTE) and reduce Fc receptor and complement C1q binding (L234F, L235E, P331S). The primary data supporting the EUA came from the PROVENT clinical study, which is assessing the safety and efficacy of a single 300 mg dose of AZD7442 compared to placebo for the prevention of COVID-19. At the primary analysis, the study data showed AZD7442 reduced the risk of developing symptomatic COVID-19 by 77% (95% CI: 46, 90), compared to placebo.
Evusheld is the 4th anti-SARS-CoV-2 antibody product granted an EUA. See our COVID-19 Biologics Tracker for information about other anti-SARS-CoV-2 antibodies.