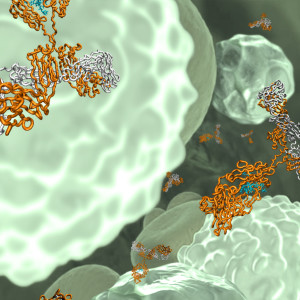 Rare Disease Day is held to raise awareness of the more than 7,000 diseases that each affect a small number of people. In the US, any disease affecting fewer than 200,000 people (1 per ~1,650 people) is considered rare, while in Europe rare diseases ae defined as those that affect fewer than 1 in 2,000 people.
Regulatory agencies in the US, Europe, Japan, as well as other countries, have 'orphan drug' programs, which incentivize the development of drugs to treat rare diseases. Numerous monoclonal antibody (mAb) therapeutics have been granted Orphan Drug designations, as illustrated by the examples below.
Recently approved by FDA
Tebentafusp (KIMMTRAK®) for uveal melanoma
Approved by FDA in January 2022, tebentafusp-tebn is a bispecific fusion protein composed of: 1) a T cell receptor (TCR) recognizing a human leukocyte antigen (HLA)-A*02:01 complexed with a peptide derived from gp100 antigen expressed by melanoma cells, and 2) an antibody single-chain variable fragment that binds CD3 present on T cells. Developed by Immunocore, this molecule creates a bridge between tumor cells and immune cells, and thus facilitates tumor-cell killing by T cells. As the TCR domain recognizes a peptide presented on HLA-A*02:01, tebentafusp can only be used to treated patients expressing this HLA type. Tebentafusp was granted Breakthrough Therapy, Fast Track, and Orphan Drug designations by the FDA. Tebentafusp is marketed by Immunocore Holdings plc.
Sutimlimab (Enjaymo) for cold agglutinin disease
Sutimlimab-jome, a hinge-stabilized, humanized IgG4k antibody that targets and inhibits complement component 1s (C1s), was approved by FDA in February 2022 as a treatment of hemolysis in adult patients with cold agglutinin disease (CAD). A mutation in the Fc region (L235E) reduces the effector functions of the antibody. This rare autoimmune disorder is characterized by hemolysis caused by activation of the classic complement pathway. Sutimlimab received FDA's Breakthrough Therapy and Orphan Drug designations for CAD, and Orphan Drug designation in the European Union for this indication. Sutimlimab is marketed by Sanofi.
Biological license applications in FDA review
Spesolimab (Boehringer Ingelheim) for generalized pustular psoriasis
Spesolimab is a humanized IgG1k antibody that blocks activation of the IL-36 receptor, which is involved in the pathogeneses of neutrophilic skin diseases such as generalized pustular psoriasis (GPP), palmoplantar pustulosis and hidradenitis suppurativa. FDA granted spesolimab Orphan Drug designation for the treatment of GPP. Marketing applications are undergoing evaluation by the FDA, as well as the European Medicines Agency (EMA).
Teclistamab (Janssen Research & Development, LLC) for multiple myeloma
Teclistamab (JNJ-64007957) is an IgG4l T-cell redirecting antibody derived from Ligand's transgenic mouse (OmniAb) and Genmab's DuoBody technology. The antibody selectively targets BCMA and CD3. Teclistamab was granted Breakthrough Therapy designation for the treatment of relapsed or refractory multiple myeloma (MM) by the FDA, and EMA's PRIME designation for treatment of adult patients with relapsed or refractory MM who previously received ≥3 prior lines of therapy in 2021. Teclistamab had previously been granted Orphan Drug designations for MM in both the US and EU. Marketing applications are undergoing evaluation by the FDA and EMA.
BLA submission anticipated in Q1 2022
Mirvetuximab soravtansine (ImmunoGen, Inc.) for ovarian cancer   
Mirvetuximab soravtansine (IMGN853), comprising a humanized folate receptor alpha (FRα) IgG1k antibody conjugated to the maytansinoid drug DM4 via a cleavable disulfide linker, is being developed by ImmunoGen as a treatment for epithelial malignancies, including ovarian cancer adenocarcinoma. The drug has been granted US and EU Orphan Drug designations for ovarian cancer, as well as FDA's Fast Track designation for a specific subset of patients with medium to high FRα-positive platinum-resistant ovarian cancer who received at least one, but no more than three prior systemic treatment regimens, and for whom single-agent chemotherapy is appropriate as the next line of therapy. ImmunoGen anticipates submission of a biologics license application in the first quarter of 2022, with potential accelerated approval in 2022.
Keep up to date on the late-stage pipeline and antibody therapeutic approvals all year by visiting our website!
More information about approved antibody therapeutics, including target, format and year of approval, can be found here.
More information about antibody therapeutics in late-stage studies can be found in 'Antibodies to Watch in 2022' and in our searchable online table found here.