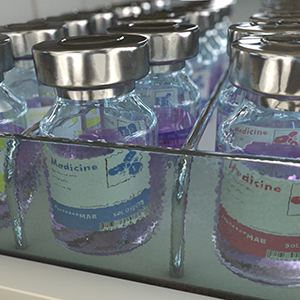 On November 17, 2023, Almirall S.A. announced that the European Commission approved EBGLYSS (lebrikizumab) for the treatment of adult and adolescent patients (12 years and older with a body weight of at least 40 kg) with moderate-to-severe atopic dermatitis (AD), who are candidates for systemic therapy. Lebrikizumab (Ebglyss) is a humanized, hinge-stabilized (S228P mutation) IgG4k antibody that targets IL-13, a key mediator of the pro-inflammatory response and enhances neuronal responses to the persistent itch stimuli in atopic dermatitis.
The approval in the European Union is based on results from three phase 3 trials evaluating the safety and efficacy of lebrikizumab in adults and adolescents >12 years of age with atopic dermatitis. Advocate 1 (NCT04146363) and Advocate 2 (NCT04178967) are randomized, double-blind, placebo-controlled, parallel-group studies in which patients with moderate-to-severe atopic dermatitis received either an initial dose of 500 mg of lebrikizumab followed by 250 mg lebrikizumab Q2W, or placebo for a 16-week treatment period. Following the 16 weeks, patients who received a clinical response to lebrikizumab were re-randomized to receive lebrikizumab Q2W or Q4W, or placebo, for another 36 weeks. The primary endpoints were an Investigator Global Assessment (IGA) score of clear or almost clear (0 or 1, respectively) skin with reduction of at least two points from baseline and at and least 75% reduction in the Eczema Area and Severity Index (EASI-75) score. Both Advocate 1 and Advocate 2 met their primary endpoints, with the IGA outcome being achieved in 43.1% of the lebrikizumab cohort (n=283) compared to 12.7% in placebo cohort (n=141) for Advocate 1, and 33.2% of the lebrikizumab cohort (n=281) compared to 10.8% in the placebo cohort (n=146) for Advocate 2. [1] The third Phase 3 study, Adhere (NCT04250337), is a 16-week randomized, double-blind, parallel-group study which investigated the efficacy of lebrikizumab in combination with topical corticosteroids in 211 patients with AD. Patients were randomized 2:1 to receive either 250mg SC lebrikizumab Q2W after an initial loading dose of 500 mg, or placebo, in combination with topical steroids, either mid-potency (0.1% triamcinolone acetonide cream) or low-potency (1% hydrocortisone cream). After 16 weeks, IGA of 0 or 1 with a 2 or more-point reduction from baseline was achieved by 41.2% of the lebrikizumab cohort compared to 22.1% of the placebo cohort, with statistical significance being reached as early as 8 weeks. [2] There was also a significantly greater proportion of patients achieving EASI-75 responses.
Almirall licensed the rights to develop and commercialize lebrikizumab for the treatment of dermatology indications, including atopic dermatitis, in Europe. Eli Lilly and Company has exclusive rights for the development and commercialization of the product in the United States and the rest of the world, not including Europe. Lilly has submitted a marketing application for lebrikizumab for atopic dermatitis to the US Food and Drug Administration.
Silverberg JI, Guttman-Yassky E, Thaçi D, Irvine AD, Stein Gold L, Blauvelt A, Simpson EL, Chu CY, Liu Z, Gontijo Lima R, et al. Two Phase 3 trials of lebrikizumab for moderate-to-severe atopic dermatitis. N Engl J Med. 2023;388(12):1080-1091. Doi: 10.1056/NEJMoa2206714.
Simpson EL, Gooderham M, Wollenberg A, Weidinger S, Armstrong A, Soung J, Ferrucci S, Lima RG, Witte MM, Xu W, et al. Efficacy and safety of lebrikizumab in combination with topical corticosteroids in adolescents and adults with moderate-to-severe atopic dermatitis: A randomized clinical trial (Adhere). JAMA Dermatol. 2023;159(2):182-191. Doi: 10.1001/jamadermatol.2022.5534.