AIRR Community Meeting IV: Bridging the Gaps
May 11-15, 2019, University of Genoa, Italy
Organizing Committee: Jamie Scott, Ramit Mehr, Davide Bagnara, Jean-Philippe Bürckert and Pam Borghardt
Contact: meetings@AIRRC.antibodysociety.org
Registration
!!! Registration is now open – please click here to register !!!
The theme of this meeting, "Bridging the Gaps" addresses technological gaps between the amounts of accumulated data and our ability to process them, and the need for more involvement of stakeholder communities (industry, clinicians, patent communities) for uptake of the standards developed by the AIRR Community. We have confirmed two outstanding Keynote speakers – Dr. Sai Reddy from ETH Zurich and Dr. Antonio Lanzavecchia from IRB Bellinzona. Two planned panel discussions will include representatives from other institutions and companies that work with AIRR-seq data. In addition, two "challenge" sessions are planned to address the above-mentioned gaps. Two pre-meeting workshops will be available to teach the basics of immunology, and of AIRR-seq data analysis for beginners. Also planned are two poster sessions; and two tool and software demos sessions.
The meeting agenda can be downloaded here.
Meeting at a Glance: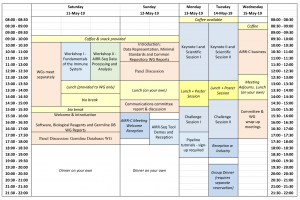 Information about travel, accommodations and Genoa
Click here for an interactive map of the conference venue and hotel options.
Meeting sponsors:
Funding Agencies
Silver Level
Bronze Level
Past AIRR meetings
You can find information, videos and agendas of the past meetings here: Information on past AIRR meetings