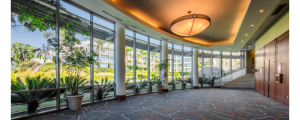 The AIRR-C Meetings Sub-committee is excited to announce that registration is live!  Be sure to sign up soon to take advantage of the early bird discount!
AIRR Community Meeting VI "Exploring New Frontiers" will be held in La Jolla, CA from May 17-19, 2022.
Exploring New Frontiers:  This meeting has two themed "Challenge Sessions" meant to:
(i) Initiate and implement a strategic plan for the AIRR Community that integrates the Working Groups' activities toward the central goal of universally accepted AIRR-seq data standards;
(ii) Introduce the Community to multidimensional systems approaches for characterizing immune responses, and how AIRR-seq data can benefit such approaches.
Meetings and presentations will take place at the Hilton La Jolla Torrey Pines and a hotel room block has been arranged at a discounted rate. The meeting will provide opportunities for investigators and trainees to network, participate in AIRR Community Working Groups and Sub-committee meetings, enjoy world class presentations, poster sessions, and deep dive tutorials.
Sign up today!