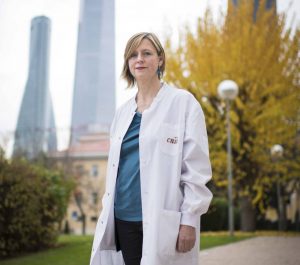 Speaker: Professor Giovanna Roncador obtained a Bachelor's Degree in Biology from Bologna University in 1994, and a PhD degree in Biology from the Universidad Autónoma deMadrid in 2012. From 1994 to 1996 she was in charge of the routine diagnostic immunohistochemistry procedures in the diagnostic laboratory, as well as the immunophenotypic characterization of lymphomas for research projects, at the Department of Haemolymphopathology of Bologna University. In 1997 she moved to the Nuffield Department of Clinical Laboratory Sciences at Oxford University, where she specialized in monoclonal antibodies (mAbs) technology, focusing in the production and characterization of mAbs for the diagnosis of lymphomas. In October 2000 Dr. Roncador joined the CNIO as Head of the Monoclonal Antibodies Unit, to set up the monoclonal antibodies technology at this institution, supervising a team of 3-4 technicians. The technical and scientific excellence of the Unit is evidenced by its trajectory of more than 19 years, resulting in the production of ~ 150 mAbs, mostly directed against markers used for research and diagnosis of cancer. This work has resulted in the publication of a total of 78 research articles in peer-reviewed journals of international relevance, where she is co-author or corresponding author. She has supervised one doctoral thesis, and is involved in different activities related to the training and education of young researchers and technicians. Since 2009 she is the founder and chair of EuroMabNet (www.euromabnet.con), the first  European non-profit organization of multidisciplinary academic laboratories with internationally recognized reputations in generating and using validated monoclonal antibodies.
Professor Roncador is also deeply involved in activities of technology transfer: 40 of the high-quality antibodies produced by the Unit since 2005 have been licensed to the most prestigious international companies operating in this field, such as BD Bioscience, eBioscience, Biolegend, Sigma, Abcam, Millipore, generating an important economic return for the CNIO in royalties. Each year the Unit releases a catalog of antibodies available for licensing (more than 100), containing their validation data (accessible at http://www.cnio.es/ing/servicios/anticuerpos/default.Aspx and https://www.cnio.es/es/servicios/anticuerpos/datasheet.aspx). The antibodies produced by the Unit have been applied as valuable tools for cancer research and diagnosis, both in hospitals of the National Health System and in national and international research institutions. In addition, Professor Roncador has established collaborations with pharmaceutical and biotech companies (Merck, Lilly, R-Biopharm) for the production of antibodies against molecules involved in cancer development.
Dr. Simon Goodman moderates this webinar series.