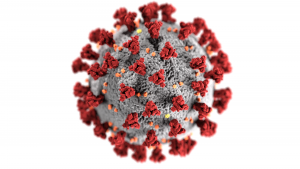 Written by Raquel Barroso Ferro, University of Aberdeen
In April 2020, Vir Biotechnology and GlaxoSmithKline (GSK) began a partnership that has proven fruitful. As announced on March 10, 2021, patients with mild or moderate Covid-19 at high risk of progression to severe disease who were treated with the human monoclonal antibody VIR-7831 (sotrovimab) in the COMET-ICE study (NCT04545060) had a reduction of 85% in hospitalization or death compared to those who received placebo. Although complete details of the ongoing trial are not yet available, this "artificial immunity" offers hope for patients. In particular, such treatment may be beneficial to those who are unable to receive a vaccine or whose immune system is weakened.
Vir and GSK plan to submit an emergency use authorization application in the US and seek authorizations in other countries.
Originally derived from a patient who survived severe acute respiratory syndrome coronavirus (SARS-CoV) in 2003, (1) the antibody binds to a highly conserved epitope on the spike glycoprotein shared by both SARS-CoV and the virus causing the current pandemic, SARS-CoV-2. This shared epitope suggests high conservation and its likely importance for viral infection. Binding this epitope may reduce the likelihood of mutational escape, and allow the antibody to neutralize multiple variants that emerge. In fact, according to a pre-print posted March 10, 2021 on BioRxiv, the epitope of VIR-7831 does not overlap with the mutational sites observed in the circulating variants. (1)
In preclinical studies, VIR-7831 achieved high concentration in the lungs, (1) the principal site of Covid-19 infection, (2) neutralized live virus, and was shown to engage effector functions, such as antibody-dependent cytotoxicity and phagocytosis, to mediate clearance of infected cells. (1)
The announcement of positive results from the COMET-ICE study follows a March 3, 2021, announcement by Vir and GSK that the Data and Safety Monitoring Board for the ACTIV-3 trial (NCT04501978) evaluating VIR-7831 in hospitalized adults with COVID-19 has recommended that the VIR-7831 arm of the trial be closed to enrolment while the data mature. No safety signals were reported, but the sensitivity analysis called into question the magnitude of the potential benefit of VIR-7831 administration to hospitalized patients. The National Institutes of Health is sponsoring the ACTIV-3 master protocol, which is examining the clinical safety and efficacy of numerous investigational agents relative to current standard of care therapy in hospitalized patients with more severe COVID-19.
Overall, the findings from the two clinical studies suggest that VIR-7831 could be of most benefit to patients during early onset of the disease, shortly after a positive test. This treatment has great potential to reduce both the severity of the disease in individuals and the substantial burden COVID-19 has placed on hospital staff and resources.
Another challenge, however, will be instilling confidence in doctors to prescribe anti-SARS-CoV-2 monoclonal therapies to patients. According to Dr. Derek Angus, an intensive-care physician at the University of Pittsburgh who spoke to Nature, (3) the absence of data published in peer-reviewed journals has left doctors wary. Moreover, high costs and more specialized requirements for administering infusion-based therapies will make what seems to be a working therapy and hope for patients a more complicated task. Intramuscular (IM) injection, which may substantially increase patient convenience, is possible. Clinical studies for anti-SARS-CoV-2 antibodies administered via intramuscular (IM) injection, including VIR-7831 (COMET-PEAK) and AZD7442 (PROVENT, STORM CHASER), are ongoing and clinical study results have not yet been announced.
1.       Cathcart et al. The dual function monoclonal antibodies VIR-7831 and VIR-7832 demonstrate potent in vitro and in vivo activity against SARS-CoV-2. 2021. 
2.       Cevik et al. Virology, transmission, and pathogenesis of SARS-CoV-2. BMJ 2020; 371. BMJ. 2020. 
3.       Ledford H. COVID antibody treatments show promise for preventing severe disease. Nature 2021.