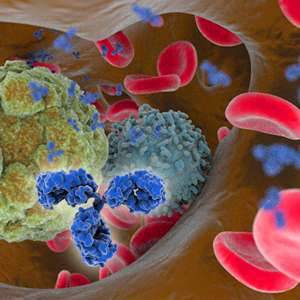 Five monoclonal antibody (mAb) therapeutics have recently transitioned into late-stage clinical studies. Three (utomilumab, isatuximab, SHR-1210) are being evaluated as treatments for cancer, and the effects of two (crizanlizumab, olokizumab) are being studied in patients with other disorders.  Utomilumab (PF-05082566) is a human IgG2 antibody agonist that targets the extracellular domain of 4-1BB (CD137), which is a co-stimulatory receptor expressed on activated T cells. In preclinical studies, Fisher et al (1) demonstrated that utomilumab can activate NF-κB and induce downstream cytokine production, promote leukocyte proliferation, and inhibit tumor growth in a xenograft tumor model. Utomilumab is included in a multi-center, international, randomized, open label, 2-component (Phase 1b followed by Phase 3), parallel-arm study (Javelin DLBCL; NCT02951156) of avelumab in combination with various agents for the treatment of relapsed/refractory diffuse large B-cell lymphoma. The study includes a total of 5 arms (A: avelumab/utomilumab/rituximab; B: avelumab/utomilumab/azacitidine; C: avelumab/rituximab/bendamustine; D: selected regimen from Phase 1b component, which may be the agents investigated in study arms A or B or C; E: investigator's choice of either rituximab/bendamustine or rituximab/gemcitabine/oxaliplatin). Progression-free survival is the primary outcome measure of the Phase 3 component of the study, which has an estimated primary completion date of February 2021.
Isatuximab (SAR650984), a humanized anti-CD38 IgG1 mAb, is undergoing evaluation in a Phase 3 randomized, open-label, multicenter study (ICARIA-MM; NCT02990338) comparing the mAb in combination with pomalidomide and low-dose dexamethasone vs. pomalidomide and low-dose dexamethasone in patients with refractory or relapsed and refractory multiple myeloma. Jiang et al (2) demonstrated that isatuximab utilizes multiple mechanisms of action in mediating multiple myeloma cell cytotoxicity, and that pomalidomide augments this cytotoxicity. Progression-free survival is the primary outcome measure of the Phase 3 study, which has an estimated primary completion date of May 2018.
SHR-1210 is a humanized IgG4 antibody targeting programmed death-1. A randomized controlled multi-center Phase 2/3 study (NCT02989922) to evaluate SHR-1210 in patients with advanced hepatocellular carcinoma who failed or intolerable to prior systemic treatment is currently recruiting patients. The study will assess whether SHR-1210 treatment improves objective response rate and overall survival compared with the standard of care. The estimated primary completion date of the study is December 2018.
Crizanlizumab (SEG101, SelG1) is a humanized IgG2 P-selectin (CD62) inhibitor undergoing evaluation for prevention or reduction of the occurrence of pain crises in patients with sickle cell disease. Results from the Phase 2 SUSTAIN study (NCT01895361) showed that crizanlizumab administered at 5.0 mg/kg intravenously 14 times over a period of 52 weeks reduced the median annual rate of sickle cell-related pain crises by 45.3% compared to placebo (1.63 vs 2.98, p=0.010) (3). The median time to the first crisis was significantly longer in patients who received crizanlizumab compared with placebo (4.07 vs. 1.38 months, P=0.001), as was the median time to the second crisis (10.32 vs. 5.09 months, P=0.02). Crizanlizumab is listed as in Phase 3, with a planned filing date of 2020, in the Novartis Annual Report 2016.
Olokizumab, an anti-interleukin-6 humanized IgG4 mAb (4), is undergoing evaluation in three Phase 3 studies evaluating two doses of olokizumab (64 mg subcutaneous every 2 or 4 weeks) in patients with rheumatoid arthritis (RA). The primary outcome measures are the ACR20 response at Week 14. The Phase 3 NCT02760368 study (CREDO 1) will determine how safe and effective olokizumab is compared to placebo in RA patients who are already receiving, but not fully responding to, treatment with methotrexate. The study's estimated primary completion date is May 2018. In study NCT02760407 (CREDO 2), the effectiveness and safety of olokizumab is being compared to placebo and adalimumab in RA patients who are taking methotrexate but have active disease. The study's estimated primary completion date is January 2019. In study NCT02760433 (CREDO 3), the effects of olokizumab are being compared to placebo in patients with RA who are already receiving, but not fully responding to treatment with a tumor necrosis factor inhibitor (CREDO 3). The study's estimated primary completion date is February 2019. Olokizumab, formerly known as CDP-6038, is under development by R-Pharm under a worldwide exclusive license from UCB Pharma S.A.
The Antibody Society maintains comprehensive tables that list mAbs in late-stage clinical studies (i.e., pivotal Phase 2, Phase 2/3 or Phase 3) for cancer and non-cancer indications. These tables are updated versions of Tables 3 and 4 in the article 'Antibodies to watch in 2017'.  The tables will be updated with new information about antibody therapeutics that enter late-stage studies as the information is made available during the year. Information in bold was added during 2017. Antibody therapeutics that transition from late-stage studies to regulatory review are listed with the 'Approved antibodies' in the Members Only section of The Antibody Society's website.
Please login using your username and password to view the content in the Members Only section.
Not a member? Please join!
Membership is free for employees of the Society's corporate sponsors.
1.       Fisher TS, et al. Targeting of 4-1BB by monoclonal antibody PF-05082566 enhances T-cell function and promotes anti-tumor activity. Cancer Immunol Immunother. 2012; 61(10):1721-33.
2.       Jiang H, et al. SAR650984 directly induces multiple myeloma cell death via lysosomal-associated and apoptotic pathways, which is further enhanced by pomalidomide. Leukemia. 2016; 30(2):399-408.
3.       Ataga KI, et al. Crizanlizumab for the prevention of pain crises in sickle cell disease. N Engl J Med. 2017; 376(5):429-439.
4.       Shaw S, et al. Discovery and characterization of olokizumab: a humanized antibody targeting interleukin-6 and neutralizing gp130-signaling. MAbs. 2014; 6(3):774-82.