The Antibody Society is proud to provide funding for numerous antibody-related conferences and symposia organized by our members, including those listed below. In particular, we provide funding for conferences that encourage participation by postdoctoral fellows and graduate students.
2018 Society-funded meetings
Keystone Symposium "Antibodies as Drugs: Translating Molecules into Treatments"
February 25–March 1, 2018, Whistler, British Columbia, Canada
Scientific Organizers: Paul W. H. I. Parren & Erica Ollmann Saphire.
Sessions included:
Protective Antibody Responses
Workshop 1: Antibodies and Protection
From Molecules to Vaccines
Antibodies as Biopharmaceuticals
Antibody Fc-Mediated Mechanisms I
Antibody Fc-Mediated Mechanisms II
Workshop 2: Therapeutic Antibodies
Exploiting Effector Cell Responses
Novel Ways to Deliver Antibody Therapy
From Molecules to the Clinic
Congratulations to the following participants, who were selected to receive Society-funded scholarships based on the excellence of their posters:
Jeffrey J. Bunker, University of Chicago, USA
Philipp Leonhard Kolb, University of Freiburg, Germany
Maria Mar Naranjo, Centre National de la Recherche Scientifique, France
Seline Zwarthoff, University Medical Center Utrecht, Netherlands
Gordon Research Conference "Antibody Biology and Engineering"
March 25-30, 2018, Renaissance Tuscany Il Ciocco, Lucca (Barga), Italy
Chair: Mark Hogarth & James Ernst; Vice Chair: Jeanette Leusen
The conference presented in-depth coverage of recent advances in this exciting field, in an informal setting designed to maximize interaction. Sessions included:
Therapeutic Antibodies
Antibody Properties and Diversity
Structure Function Relations
Immunoglobulin Effector Function
Antibody Cross-Talk
Orchestrating Antibody Responses
Alternative Antibody Dependent Responses
Pre-Clinical Antibody Evaluation
Keynote Session: Antibodies Therapeutics as Agents of Clinical Change
Power Hour
FASEB Science Research Conference "Immunoreceptors and Immunotherapy"
June 10-15, 2018, Snowmass, CO
Organizers: E. Sally Ward (Texas A&M University Health Science Center) & Stephen A. Beers (University of Southampton)
Sessions include:
Fc Receptors: From Structure to Function (Chair: Jenny Woof, University of Dundee)
Therapeutic Antibodies: Models and Mechanism (Chair: Stephen Beers, U. Southampton)
B Cell Receptor Signaling and Antibody Response (Chair: John Cambier, U. Colorado School of Medicine)
Inhibitory Receptors (Chair: Peter Sun, NIAID)
Cytokines and Signaling (Chair: Warren Leonard, NHLBI/NIAMS)
T Cell Receptor Recognition and Signaling (Chair: Michael Dustin, The Kennedy Institute)
Immune Responses in the Tumor Microenvironment (Chair: Pamela Ohashi, U. Toronto)
Immunotherapy (Chair: Jeanette Leusen, UMC Utrecht)
10th Waddensymposium: "Antibodies: central players in therapy and disease"
June 24 – 26, 2018, Hotel Duinzicht, Ouddorp (Zuid Holland), the Netherlands
Scientific/ organizing committee:
Prof.dr. W.E. Fibbe, Prof.dr. F. Koning, Prof.dr. P.W.H.I. Parren, Dr. L.A. Trouw
The theme of the 10th Waddensymposium is: "Antibodies: central players in therapy and disease". Research within Leiden University Medical Center's department of Immunohematology and Blood Transfusion includes studies of the role of antibodies in pathology of disease, studies of antibody-mediated mechanisms such as effector function (including complement activation), or the use of antibodies as reagents and tools. Current developments on the use of antibodies as diagnostic markers, but especially also the development of novel antibodies as therapeutics, have major impact on several of the LUMC medical research profiles including "Immunity, Infection and Tolerance", "Cancer pathogenesis and treatment", "Vascular and Regenerative Medicine" and "Neurosciences". To this end, three major topics will be addressed:
Antibody composition & complement
Antibodies in disease and therapy
Antibody pathogenicity
The symposium included three scientific sessions from Monday until Tuesday afternoon. Each of the three major topics were introduced by a tutorial, followed by scientific presentations. Ample time was provided for formal as well as informal discussions. The informal atmosphere supports fruitful interactions between the senior opinion leaders and colleagues and young researchers.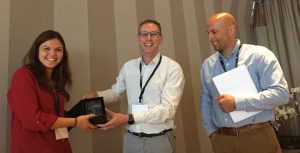 The Society's first Award for Excellence was presented at the Waddensymposium. An independent jury consisting of Prof. Stephen Beers (University of Southampton) and Dr. René Pfeiffle (University of Erlangen) selected Sanne van de Bovenkamp as the overall winner. The jury indicated that they were not only highly impressed by the quality of Sanne's presentation but also by her demonstrated ability to engage in an insightful scientific discussion.
In her presentation, Sanne described her recent work on the impact of Fab-domain glycosylation in the adaptive antibody response. Her studies demonstrate that Fab-domain glycosylation is subject to clonal selection and impacts on antibody affinity. Sanne performed her graduate work at Sanquin Research with Dr. Theo Rispens.  She is currently a postdoc at the department of Immunohematology and Blood Transfusion at the Leiden University Medical Center in Leiden with Prof. Leendert Trouw. She is pictured here with Society Board of Director's member Dr. Paul W.H.I. Parren and Prof. Beers.