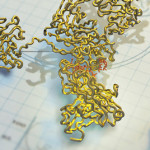 On April 23, 2019, the US Food and Drug Administration approved risankizumab-rzaa (SKYRIZI™) for the treatment of moderate to severe plaque psoriasis in adults who are candidates for systemic therapy or phototherapy. Risankizumab is a humanized IgG1 monoclonal antibody that inhibits interleukin (IL)-23, a cytokine involved in inflammatory processes, by binding to its p19 subunit. SKYRIZI is part of a collaboration between Boehringer Ingelheim and AbbVie, with AbbVie leading development and commercialization of SKYRIZI globally.
The product's approval is supported by data from four randomized, placebo and/or active-controlled pivotal studies, ultIMMA-1, ultIMMa-2, IMMhance and IMMvent, that evaluated the safety and efficacy of risankizumab in more than 2,000 patients with moderate-to-severe chronic plaque psoriasis. The co-primary endpoints of the studies were Psoriasis Area and Severity Index and static Physician Global Assessment [sPGA] score of clear or almost clear [sPGA 0/1] at 16 weeks versus placebo. In these four studies, all co-primary and ranked secondary outcome measures were met and no new safety signals were observed. Results of the UltIMMa-1 (NCT02684370) and UltIMMa-2 (NCT02684357) studies were reported in The Lancet. Risankizumab was previously approved in Japan and Canada, and a marketing authorization application for risankizumab is currently undergoing regulatory review in the European Union.
Like this post but not a member? Please join!
The Antibody Society maintains a comprehensive table of approved mAb therapeutics and those in regulatory review in the EU or US. Please log in to access the table, which is located in the Members Only section and can be downloaded in Excel format. Information about other antibody therapeutics that may enter regulatory review in 2019 can be found in 'Antibodies to watch in 2019'.