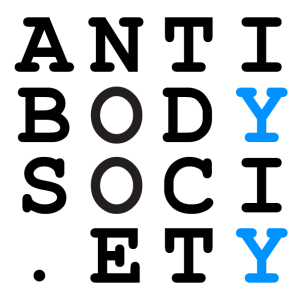 The Antibody Society is pleased to invite you to attend its annual Meeting, Antibody Engineering & Therapeutics, which will be held December 12-15, 2017, in San Diego, CA. We will be celebrating the 10th anniversary of the Society at the Society's Special Session on Thursday December 14, 2017. In this session summary, Dennis R. Burton (The Scripps Research Institute) and Paul W.H.I. Parren (Leiden University Medical Center) discuss what you will learn in their session on post-translational modification in antibody function.
The critical importance of sequence variation in antibodies is well recognized. Sequence diversity in antibody variable domains is essential for specific antigen recognition while linkage to different constant domains leads to distinct Fc-mediated effector activities. Post-translational modifications (PTMs) of these domains provide an additional immune mechanism by which the binding and activity of antibodies can be modulated. PTMs vary from chain additions, such as N- and O-linked glycosylation, glycation, cysteinylation and sulfation; chain trimming, such as C-terminal lysine clipping; amino acid modifications such as cyclization (into a N-terminal pyroglutamic acid), deamidation, oxidation, isomerization and carbamylation; to disulfide scrambling of hinge region interchain disulfide bonds. Each antibody can therefore give rise to a myriad of distinct antibody molecules with large activity and potency differences. Although post-translational modifications of antibodies have been observed and studied for decades, we only now start to understand the full impact of this incredible microheterogeneity. PTMs have moved from being viewed as a mere nuisance to antibody manufacturing that requires controlling to a potential handle to modify and improve specific antibody functions.
In this session, we will hear about current state-of-the-art in PTM detection and novel insights into the role and modulation of PTMs in our immune system as well as the way in which we can exploit PTMs to make better (therapeutic) antibodies. The first and the second (after the break) part of our session will be initiated with lectures by renowned experts in their fields. Professor Albert Heck (Utrecht University) is a world-expert on the structural analysis of proteins by mass spectrometry. He received the Frank H. Field and Joe L. Franklin Award for outstanding achievement in mass spectrometry from the American Chemical Society and in 2017 he was received the NWO Spinoza Prize, which is the highest award in Dutch Science. Prof Heck will discuss how innovative and advanced mass spectrometry methods can be used to map antibody heterogeneity due to PTMs. Leendert Trouw (Leiden University Medical Center) will discuss the role of two amino acid modifications (citrullination and carbamylation) in the autoimmune disease rheumatoid arthritis (RA). On the one hand, the presence of antibodies against citrullinated or carbamylated proteins represents a prognostic marker for the disease. How antibodies recognize diverse antigens carrying these modifications is therefore an important area of study. Carbamylation of antibodies furthermore may also have functional consequences for antibody effector functions which will be highlighted. Professor Gerhard Krönke (University of Erlangen) will discuss how the PTM profile and inflammatory activity of autoantibodies in RA is regulated by TH17 helper T cells. His work gives us a novel insight into a mechanism by which the cellular immune system regulates the activity of antibodies and how its derailment may lead to the initiation of (autoimmune) disease.
After the break, Taia Wang (Stanford University School of Medicine) will discuss the diverse downstream proinflammatory, anti-inflammatory and immunomodulatory consequences of the engagement of type I and type II Fc receptors, which are influenced by the Fc's amino acid sequence and the complex, biantennary Fc-associated N-linked glycan, in the context of infectious, autoimmune, and neoplastic disorders. Yingda Xu (Adimab) will bring us back to the importance of PTMS in manufacturing and control of therapeutic antibody production. He will show novel data on the identification of chemically labile sites in antibodies and how this information may be used in therapeutic antibody lead selection. Finally, Raiees Andrabi (The Scripps Research Institute) will discuss how sulfation of residues in the antibody binding site is critical for certain broadly neutralizing anti-HIV-1 antibodies targeting the envelope glycoprotein.
We hope that this session will convey the current interest and high excitement in antibody PTMs and will serve to promote further research into the importance and impact of PTM microheterogeneity for polyclonal antibody responses as well as for monoclonal antibody therapeutics.
Interested in attending the meeting? Learn more from this PDF, which includes all session summaries written by the chairpersons.
Society members can save 15% on the registration fee! Not a member? Please join!
Membership is free for students and employees of the Society's corporate sponsors.